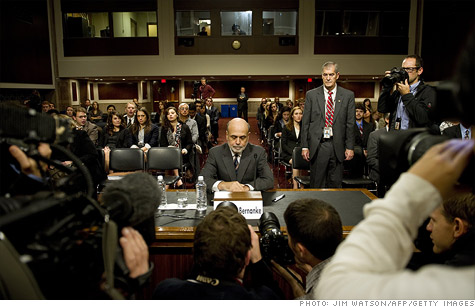 NEW YORK (CNNMoney) -- Fed chief Ben Bernanke told a panel of Congress on Tuesday that the central bank expects growth in the second half of the year to be "more rapid" than the first half of the year, but says the economy still faces headwinds.
During a hearing before the Joint Economic Committee, the Federal Reserve Board chairman also said that the Fed expects a slower pace of economic growth in coming quarters than it had previously forecast back in June, pointing out that sluggish job growth and dour consumer confidence continue to "restrain the pace of recovery."
"Overall, the recovery from the crisis has been much less robust than we had hoped," Bernanke said.
Bernanke reiterated that the Fed is prepared to take action if necessary. However, when asked about the chances that the Federal Reserve would consider a third round of major stimulus, Bernanke said the Fed has "no immediate plans to do anything like that."
At its most recent meeting in September, the Federal Reserve announced a plan to shift its balance sheet in an effort to lower long-tem interest rates.
Bernanke said he didn't think so-called "operation twist" would do much to stimulate the economy but added it should "help somewhat." The move, he said, should push interest rates down by 0.2 percentage points.
Bernanke also gave recommendations to Congress' new super committee that's tasked with cutting $1.5 trillion from federal deficits by the end of next month, saying they need to consider long-term budget constraints but not at the detriment of short-term economic growth.
Bernanke also warned policymakers that they need to step up, saying "fostering healthy growth and job creation is a shared responsibility of all economic policymakers."
"Monetary policy can be a powerful tool, but it is not a panacea for the problems currently faced by the U.S. economy," Bernanke said.
When asked about China's continued policy to hold down the value of the yuan, Bernanke acknowledged that the Chinese policy is hindering the global economic recovery.
However, Bernanke stopped short of endorsing a Senate bill that would slap new tariffs on Chinese imports in retaliation for their policy of devaluing their currency.
The Fed chairman also gave his thoughts on the spate of protests on Wall Street, saying he thinks the protests show that "people are quite unhappy with the state of the economy."
"They blame, with some justification, the problems of the financial sector," he said. He added the protesters are "dissatisfied with the policy response here in Washington. On some level, I can't blame them."