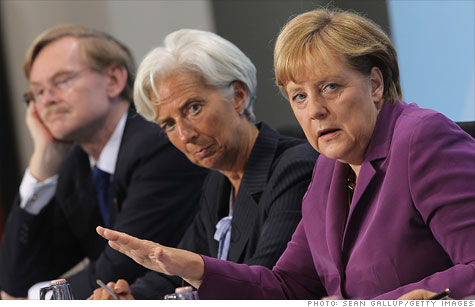 World Bank President Robert Zoellick, International Monetary Fund Director Christine Lagarde and German Chancellor Angela Merkel at a press briefing in Berlin.
NEW YORK (CNNMoney) -- European stock markets rallied for a third day Thursday as talk of government support for troubled banks grew louder.
Stocks in London (UKX), Frankfurt (DAX) and Paris (CAC40) rose more than 3% after comments from German Chancellor Angela Merkel raised hopes that a coordinated plan to recapitalize the European banking system is taking shape.
Merkel said providing government money for European banks that are struggling with liquidity issues "is sensibly invested" if it's clear that such action is needed to prevent a broader financial crisis.
"We should not hesitate," she said, "because otherwise there will be far greater damage to our systems."
She seemed to suggest that European leaders should go beyond simply telling banks "we think you ought to recapitalize." But she argued that banks should first take steps "to recapitalize themselves" before resorting to public funds.
Merkel's remarks came after a meeting in Berlin with European finance officials, including Christine Lagarde, managing director of the International Monetary Fund.
The German Chancellor's comments echoed recent statements by European Commissioner Olli Rehn and European Central Bank president Jean-Claude Trichet.
Earlier Thursday, Trichet urged banks "to do all that is necessary to reinforce their balance sheets." His comments came as the ECB announced a series of "nonstandard" measures aimed at increasing liquidity in the European banking system.
European banks have been struggling with fears about potential losses on government bonds issued by troubled European governments such as Greece. The threat of a so-called sovereign debt contagion has also led to a pullback in interbank lending.
The IMF recently estimated that European banks face an overall credit risk of up to €300 billion stemming from bonds issued by Greece, Portugal, Ireland, Italy, Spain and Belgium.
European leaders have reportedly asked the European Banking Authority to conduct another round of "stress tests" to assess banks' ability to absorb losses on Greek debt.
The EBA said in July that 8 banks failed an earlier round of stress tests and that 16 others should raise more capital. But the tests were widely dismissed because they did not factor in the impact of Greek bonds.
Trichet, in his final press conference as head of the ECB, said banks should first seek to raise capital by retaining earnings, toning down executive compensation and raising money in the capital markets.
But he added that, when necessary, banks should take advantage of "government support measures" to raise capital, including the European Financial Stability Facility.
A proposed expansion of the powers of the stability fund is expected to be ratified by all 17 euro area nations by the end of October.
Under the proposed changes, the EFSF will be able to provide funding for banks that need to raise capital. It will also have the authority to buy government bonds in the secondary market.
The goal is for the stability fund to replace the ECB as the buyer of last resort in the sovereign debt market. But economists say the €400 billion fund is too small to rescue larger euro area nations such as Italy.
U.S. Treasury Secretary Tim Geithner also weighed in on the debt and banking problems in Europe.
In testimony before Congress, Geithner said the United States is working with the IMF and European leaders "to move more forcefully to put in place a more comprehensive strategy to stabilize their crisis."
Geithner said the "critical imperative" in Europe is to ensure that governments and banks under financial stress "have access to a more powerful financial back stop."
In exchange for government support, Geithner said nations and banks should be required to take steps to "credibly address the underlying causes of the financial pressures they are facing."