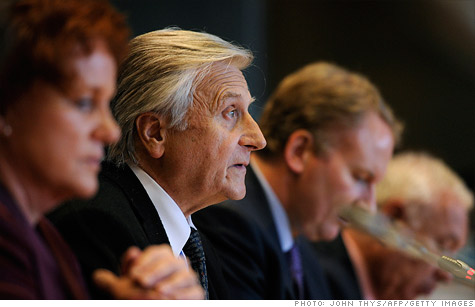 ECB president Jean-Claud Trichet will step down later this month.
NEW YORK (CNNMoney) -- The European Central Bank announced a series of "non-standard" policy measures Thursday, aimed at increasing liquidity in the European banking system. But the central bank stopped short of lowering interest rates.
Jean-Claude Trichet, the outgoing president of the ECB, said the bank will reopen 12 and 13 month long-term liquidity facilities. It will also launch a program to buy €40 billion worth of covered bonds, which are securities backed by collateral.
At the same time, he said the ECB's governing council agreed "by consensus" to hold the bank's key lending rates steady, noting that interest rates in Europe are already low by historical standards.
Even though the ECB held rates steady, "the bank did respond to the increased strains in bank funding markets by announcing a number of 'non-standard' measures to provide liquidity for banks, thereby aiming to dilute the risks of a serious credit crunch," said said Howard Archer, an economist at IHS Global in London.
Economic activity in Europe is expected to be "very moderate" in the second half of the year, said Trichet during a press conference following the interest rate decision. He further noted that "ongoing tensions" in euro area sovereign debt markets, weak global demand and falling confidence will continue to weigh on the economic outlook.
The meeting was the last under the direction of Trichet, who will be replaced by Italian Bank Gov. Mario Draghi on Oct. 31.
Last month, the ECB cut its forecasts for economic growth across Europe. It currently expects growth of only 1.4% and 1.8% in 2011, and between 0.4% and 2.2% in 2012.
Many private sector economists say more recent data suggest the European economy may fall into recession later this year.
The darkening outlook has raised pressure on the ECB to cut interest rates, after the bank already hiked rates twice this year.
But official statistics released last week showed that inflation across Europe rose to 3% from 2.5% in August -- its highest level in three years. That has complicated matters for the ECB, which is tasked with fighting inflation.
Trichet said he expects inflation to remain above the ECB's target level of 2% for a few months, before retreating back to more comfortable levels next year.
He offered no indication when an interest rate cut could come.
Instead, Trichet argued that the "non-standard" measures the bank announced Thursday are designed to maximize the impact of current monetary policy in an environment where financial markets are not functioning properly.
In response to the eurozone debt crisis, Trichet called on governments to follow through on commitments to cut spending and pay down debt. He also stressed the need for banks to raise more capital.
"The situation of the banking sector calls for particular attention, taking into account the interplay between sovereign risk issues and banks' funding needs," he said. "The governing council urges banks to do all that is necessary to reinforce their balance sheets."
If necessary, Trichet said banks should take advantage of "government support measures" to raise capital, including the European Financial Stability Facility.
A proposed expansion of the powers of the EFSF is expected to be ratified by all 17 euro area nations by the end of October.
Under the proposed changes, the EFSF will be able to provide funding for banks that need to raise capital. It will also have the authority to buy government bonds in the secondary market.
Trichet called on euro area governments to leverage the €440 billion fund "with the maximum amount of power...to ensure financial stability."
The ECB has been buying up billions of euros worth of bonds issued by Italy and Spain, among others, in an attempt to maintain order in the sovereign debt market and ensure that governments have access to affordable funding.
But the strategy has been criticized within the ECB's governing council and prompted one top banker, Jürgen Stark, to abruptly resign last month.
Trichet said the ECB's "working assumption" is that the EFSF will take over the job of intervening in sovereign debt markets once the fund is up and running. In the meantime, he said the bond-buying program will continue.
When asked if he had any regrets, Trichet said the ECB's track record for maintaining price stability for 332 million citizens of 17 sovereign nations should speak for itself.
"I am confident that when we will look at what has been done, we will see that we were trying to do our best in a very difficult environment," he said. "And in an environment where governance was not at the level that was required."
Separately, the Bank of England announced plans to increase the size of its asset purchase program by $38.5 billion to $424 billion.
Stocks in London (UKX), Frankfurt (DAX) and Paris (CAC40) gained more than 3% Thursday. Asian markets also moved higher, with the Hang Seng (HSI) in Hong Kong jumping nearly 6%.