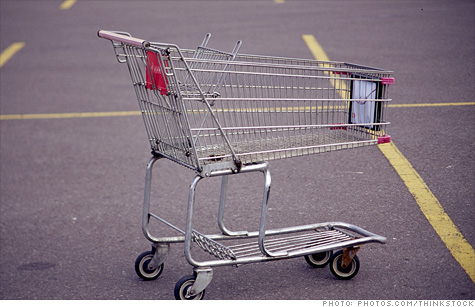 State tax revenue falters as consumers pull back on shopping amid weakening economy.
NEW YORK (CNNMoney) -- Just when states thought their tax revenues were finally on the mend...
The looming specter of Recession 2.0 has forced several states to lower their estimates for revenue growth this fiscal year, just as many had finally started to see their tax collections rebound.
But new waves of economic weakness -- including anemic job growth, a collapse of consumer confidence, and a tepid housing market -- are leading state forecasters to reduce the projections for income and sales tax collections they crafted only a few months ago.
Already, some states are seeing tax revenues come in lower than expected.
"We thought we'd keep moving on up, but since August, it's been disappointing," said Scott Pattison, executive director of the National Association of State Budget Officers.
This could wreak havoc on their state budgets, which have already had hundreds of billions of dollars wrung out of them in recent years. Many states were depending on higher tax revenues to balance their fiscal 2012 budget.
It's still early in the fiscal year, which began July 1 in most states, and revenues could rebound and meet expectations if the economy strengthens. But economists are growing more bearish by the day.
Washington State, which just had to close a $5 billion budget gap, is among the most troubled at the moment.
This spring, hopeful that the national economy was gaining strength, state officials built a budget that relied on tax revenues jumping by $4 billion during its 2011-13 budget.
But last month, State Economist Arun Raha lowered that forecast by $1.4 billion after seeing the economy deteriorate over the summer. Also weighing on his assessment were the European debt crisis and political gridlock in the nation's capital.
All this uncertainty will likely keep consumers from spending, he said. And in a state that's heavily dependent on sales tax collections, that means less money in its coffers.
"In June I did permit myself the luxury of thinking that maybe revenues will pick up by the end of the year," Raha said. "Now I've given up. I don't really see where and how we can get out of this rut."
Governor Chris Gregoire, who has ordered all state agencies to draw up plans to cut an additional 10% out of their budgets, has called for a special legislative session in November to deal with the predicted shortfall. Among the few areas left to cut are public safety, health care, social services and certain education initiatives, such as all-day kindergarten.
"There's no question we will see critical programs, if not eliminated, then greatly reduced," said Karina Shagren, a governor's spokeswoman.
Meanwhile, in California, officials are awaiting the quarterly tax collection figures, which will be released next week. So far, revenues are running $404 million below estimates for the fiscal year.
California officials are depending on tax revenues rising by $4 billion this year. If they fall short, massive spending cuts will be automatically triggered.
Some $600 million will be slashed from higher education, services for the developmentally disabled and other areas if the revised forecast, due in December, shows that collections are falling $1 billion below the original expectations.
If revenues miss their mark by more than $2 billion, then school districts will face cuts of up to nearly that amount. Some districts could see their school year shortened by up to seven days.
"While we hope for better news in the months ahead, every drop in revenues puts us closer to the drastic trigger cuts that could be imposed next year," said Controller John Chiang after disappointing July tax collection results.
In some states, weakening tax revenues won't translate into immediate budget cuts. They have enough of a cushion to see them through the current year. But the downturn means another round of tough decisions when state officials gather to formulate their new budgets next spring.
After cutting $4.6 billion out of this year's budget, Florida officials had hoped they were done with the slash-and-burn. Their original economic outlook had the Sunshine State end this fiscal year with some money leftover.
But at the end of August, forecasters revised some of their projections, saying the weakening national economy would reduce the number of people expected to relocate to the state. This will really hurt Florida, which depends on population growth as its single, largest economic driver, said Amy Baker, coordinator of the state legislature's Office of Economic and Demographic Research.
Forecasters are expected to unveil their revised estimates next Tuesday, but they will be "significantly lower," she said. They had been projecting an increase of 5.5%.
"Instead of being in a surplus position next year, they'll have to look at further reductions in the budget," Baker said of the governor and lawmakers.