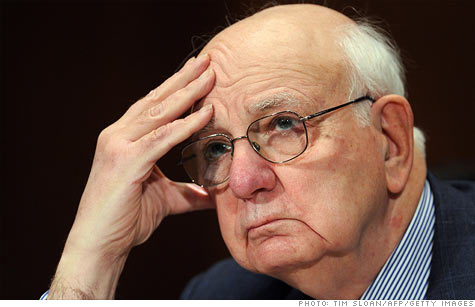 Regulators will this week give a glimpse of the rule named for former Fed chief Paul Volcker - the aim is to limit banks from making risky bets on their own accounts.
WASHINGTON (CNNMoney) -- Banking regulators this week are expected to finally release a draft rule intended to take risky bets out of the financial system in hopes of preventing another crisis.
Named for its creator, former Federal Reserve chief Paul Volcker, the rule aims to rein in how banks use their own accounts to chase profits -- so-called proprietary trading.
The Volcker rule is a nod toward Glass-Steagall, a Depression-era law that Congress repealed in 1999.
Glass-Steagall had prevented commercial banks from dabbling in investment banking. Some critics argue that its demise paved the way for deposit-taking banks to make colossal bad bets, while bank traders chased profits and big bonuses.
But the draft rule that the Federal Deposit Insurance Corp. is expected to release on Tuesday goes much easier on the banks than the originally proposed blanket ban on proprietary trading.
The rule got watered down in Congress, which enacted a broad Wall Street reform law in 2010.
For one thing, banks won a long phase-in period to comply with the rule; some banks won't feel the full impact until 2017. In addition, commercial banks won't have to entirely break away from hedge funds and will be able to keep a 3% stake in such investments.
And perhaps most importantly, Congress kicked to regulators the tough decisions involved in how to narrow down what kind of proprietary trading should be banned.
Defining proprietary trading bedeviled even Volcker himself. He once quipped in testimony before Congress that it was like "pornography -- you know it when you see it."
This week, regulators will begin to spell out exactly what they see as proprietary trading.
The rulemaking is a combined effort of the FDIC, the Securities and Exchange Commission, the Office of the Comptroller of the Currency and the Federal Reserve Board of Governors.
The FDIC will discus the draft rule on Tuesday and the SEC takes it up Wednesday. It's unclear when the other agencies will weigh in.
Some observers worry the ban on risky bets may end up being too narrow. A leaked draft of the proposal, obtained last week by American Banker, suggests that regulators intend to allow banks to continue making risky bets on behalf of their clients -- just not on their own behalf.
Volcker himself didn't intend to stop banks from serving their customers. Yet, in so called "market-making" -- when big banks make big, money-making bets on behalf of their clients -- they will sometimes have to shoulder financial risk.
For taxpayers, who are on the hook if the government decides to bail out a troubled bank, it means that the final Volcker rule won't take all the risk out of the financial system.
Knowing the rule was coming, some banks have already started changing how they do business.
Goldman Sachs (GS, Fortune 500), JPMorgan Chase (JPM, Fortune 500) and Bank of America (BAC, Fortune 500) say they have closed their proprietary trading desks. Morgan Stanley (MS, Fortune 500) has said it will be out of proprietary trading by the end of 2012.
University of Maryland law professor Michael Greenberger points out that the big banks have lost many of their best traders to hedge funds.
"Even though the Volcker rule does not appear to be coming out as the full-throated restraint on proprietary trading that was intended, it has certainly had a chilling effect on the banks in these markets," said Greenberger, who worked as a regulator of commodity markets during the Clinton administration.
But it's still a wait-and-see situation until regulators release the proposed final rule.
Scott Talbott of the Financial Services Roundtable, a lobbying group for banks, said the group "looks forward to working with the regulators to ensure the economic impact of any rule is considered properly."