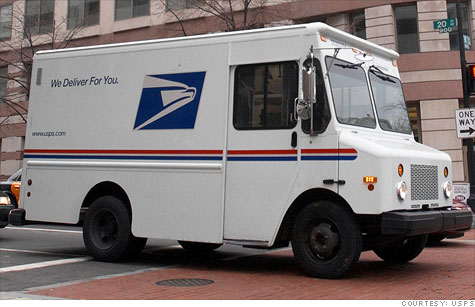 The letter carriers' union has hired a former Obama administration official and an investment adviser to help preserve the Postal Service.
WASHINGTON (CNNMoney) -- One of the big postal worker unions has hired new help to save the U.S. Postal Service -- Ron Bloom, one of the advisors who helped steer the U.S. automakers out of bankruptcy.
The National Association of Letter Carriers said Sunday that it had hired former Obama administration official Ron Bloom as well as Wall Street bank Lazard Group to help come up with ideas to help save the service and, with it, members' jobs.
The Postal Service has until Nov. 18 to make a $5.5 billion payment that's due to its retiree health care fund. But the independent agency doesn't have that kind of money, especially given the drop off in mail volume and foot traffic in recent years.
The letter carrier union said they hired Bloom and the Lazard Group to help them come up with a "pro-growth" business plan that saves the postal service while avoiding drastic cuts.
The postal service predicament is familiar to Bloom, who is largely credited for his role in helping bringing General Motors (GM, Fortune 500) and Chrysler out of bankruptcy and back to solid ground. Bloom most recently served as a White House adviser on manufacturing policy, a post he stepped away from in late August.
"We are confident that Lazard and Mr. Bloom -- both of whom have extensive experience helping to revitalize numerous large and complex business enterprises around the world --can provide valuable assistance to all stakeholders who share our commitment to maintaining and growing this vital national resource," said Fredric V. Rolando, president of the National Association of Letter Carriers, which represents 280,000 postal workers.
The Postal Service's potential default has spurred the White House and lawmakers to draft competing bills to revamp the postal service. The proposals run the gamut from ending Saturday service to hiking stamp prices and even laying off or buying out postal workers.
They've also spawned a big public reaction -- neighbors packing public hearings to oppose closure of local post offices and union rallies of lawmakers' offices to protest layoffs.
The hiring of Bloom came days after unions were dealt a blow in their effort to protect workers.
A watchdog agency, the Government Accounting Office, released a report last week that disagreed with two other agencies who say the postal workers' pension fund is vastly overfunded and can be tapped to make the health care retiree fund payment and pull the postal service out of its financial troubles.
The unions want to dip into the pension fund. They also want to get rid of the mandate that the postal service prefund all future health care retiree benefits -- scrubbing the $5.5 billion payment due in November.
But, the watchdog report warned that dipping into the pension fund could put future taxpayers on the hook for anywhere between $56 billion to $85 billion.
Republicans pounced on the watchdog report last week, using it as fodder to gain support for their own legislation.
"To save the Postal Service, we must enact meaningful and immediate reform so we can maintain service to the American people and return it to financial solvency," said Rep. Darrell Issa, a California Republican who chairs the House Oversight panel.
That committee approved Issa's bill to save the Postal Service. The bill would end Saturday service, ban the post office from promising no layoffs to new employees, and create panels -- resembling the ones convened to close military bases -- to study and recommend which post offices should be closed.