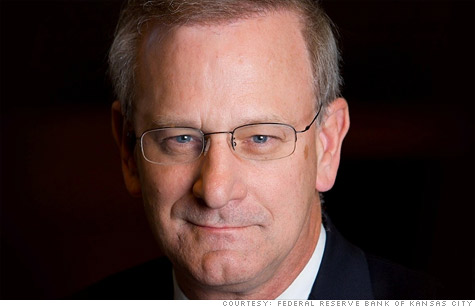 Former KC Fed President Thomas Hoenig is President Obama's pick for the No. 2 position at the FDIC.
NEW YORK (CNNMoney) -- A conservative critic of "too big to fail" banks has been tapped for a key position to do something about them.
Thomas Hoenig, a former Federal Reserve bank president, will be nominated by President Obama to become vice chairman at the Federal Deposit Insurance Corp., the federal agency that insures banks and closes them when they fail.
Hoenig is a vocal critic of large banks, technically known as "systemically important financial institutions," or SIFI, under the recent Dodd-Frank regulatory reform of the financial system. Of course, they're more popularly known as the "too big to fail" banks that are a focus of the Occupy Wall Street protests.
Under Dodd-Frank, the FDIC will be responsible for unwinding failing big banks.
In a June speech, Hoenig -- who headed the Federal Reserve Bank of Kansas City -- called those institutions "fundamentally inconsistent with capitalism."
"They are inherently destabilizing to global markets and detrimental to world growth," he said. "So long as the concept of a SIFI exists, and there are institutions so powerful and considered so important that they require special support and different rules, the future of capitalism is at risk and our market economy is in peril."
There is a debate going on right now as to what trading of financial assets banks will be allowed to do under Dodd-Frank. Advocates of the so-called Volcker rule, named after former Fed Chairman Paul Volcker, want to allow banks to conduct trading for customers but prohibit them from trading on their own behalf, a practice known as proprietary trading.
The FDIC board voted for a draft of the Volcker rule earlier this month, starting a process of public comment on the regulation.
In his June speech, Hoenig advocated even tighter prohibitions on bank trading. In fact, he thinks they should not be allowed to conduct any trades at all.
"Allowing customer but not proprietary trading would make it easy to game the system by 'concealing' proprietary trading as part of the inventory necessary to conduct customer trading," he argued.
If Hoenig is confirmed by the Senate to the new post, it could be bad news for big banks, but good news for smaller banks, said Jaret Seiberg, research analyst with MF Global's Washington Research Group.
"It is hard to find a government official who spoke out more forcefully for breaking up the biggest banks than Hoenig during his tenure as Kansas City Federal Reserve president," said Seiberg. "As FDIC vice chairman, he will have an even bigger platform for this message."
Besides his views on banks, Hoenig was probably best known as the sole dissenting vote against the Fed decision last November to buy an additional $600 billion in Treasuries in an effort to boost the sluggish U.S. economy, a policy known as quantitative easing, or QE2 for short.
He also opposed language in which the Fed promised to keep its key interest rate exceptionally low for an extended period.
He said in a speech a year ago that QE2 would be a "bargain with the devil," fearing new asset bubbles that could distort markets, and arguing that it could feed inflation down the road.
Hoenig's criticism of Fed policy made him a favorite among Congressional Republicans. Last fall, as Republicans prepared to assume control of the House after their midterm win, Hoenig was invited to speak to Republican members of Congress behind closed doors.
He also testified earlier this year before the House subcommittee on monetary policy chaired by Ron Paul, a noted Fed critic and presidential candidate, who would like to abolish the central bank altogether.
Republicans' previous praise for Hoenig may make it difficult for them to block his confirmation, even if they oppose his views on the Volcker rule and bank regulation, said Boston University law professor Cornelius Hurley, a former counsel to the Fed Board of Governors.
"A brilliant political step, Hoenig's nomination puts Senate Republicans in a very difficult spot in voting on his vice-chairmanship," said Hurley. "His experience and point of view on systemic risk may foretell a pivot away from the failing policies of (Treasury Secretary)Timothy Geithner and (and former Obama adviser) Larry Summers toward more meaningful structural reform of our financial system."
The FDIC is the government agency that insures bank deposits for customers, and oversees the takeover of banks deemed to be insolvent. After taking over relatively few banks in the years leading up to the 2008 financial crisis, it has become very active since the financial meltdown, taking over 402 banks since 2008.
Martin Gruenberg is technically still the vice chairman of the agency but he has been acting chairman since the resignation of the previous chairman, Sheila Bair, in July. President Obama nominated Gruenberg in June to become the new chairman.