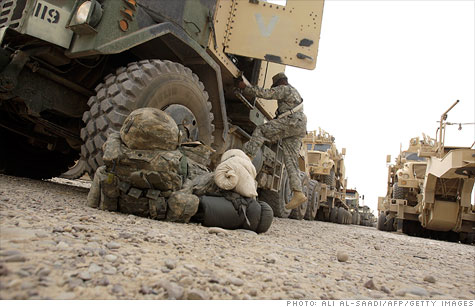 When one factors in the future costs of veterans' care and the interest on the federal debt, war costs jump into the trillions.
NEW YORK (CNNMoney) -- Lawrence J. Korb, a senior fellow at the Center for American Progress, served as assistant secretary of defense in the Reagan administration. Alex Rothman is a special assistant at the center.
On Friday, President Obama announced that the United States would withdraw its forces from Iraq by the end of the year. In doing so, he followed through on his 2008 campaign promise to end the senseless and needless war in Iraq.
On Jan. 1, our brave men and women in uniform will finally be able to come home with the dignity they deserve.
Obama's decision is good for Iraqi stability, for U.S. security, and for the United States' image overseas.
Perhaps equally important, ending the war in Iraq is a major step toward putting the United States on a more sustainable fiscal path.
The most heart-wrenching costs of the Iraq war are human: 4,482 American lives lost, 32,000 U.S. troops wounded, and even in the most conservative estimates, more than 125,000 Iraqi civilians killed.
But the war's economic costs have also taken an enormous toll on U.S. power and influence abroad.
Since 2003, the Pentagon has spent more than $700 billion on the Iraq War. (Read: Left behind: Thousands of contractors)
When one factors in the future costs of veterans' care and the interest on the federal debt, war costs jump into the trillions, an enormous expenditure of resources at a time when many domestic programs face brutal budget cuts.
Once the troops withdraw, the country's Iraq-related expenditures should decrease significantly.
According to Obama's fiscal year 2012 budget, total U.S. government funding for operations in Iraq will fall to $15.7 billion this year. That's a drop of 76% from what we spent in 2010.
Moreover, these war costs will continue to decline.
In 2012, the Department of Defense will spend $11 billion to fund the last few months of the occupation and troop withdrawal. These expenditures should fall to nearly zero in 2013, leaving the United States spending just $5 billion annually on Iraq, assuming State Department funding remains stable at 2012 level of $5 billion.
The United States could not guarantee perfect security in Iraq, no matter how long it stayed. And it is unclear what the American military could have accomplished in the next year that it hasn't been able to accomplish in the past eight.
What is clear: foreign occupation comes at a tremendous cost to the American taxpayer.
If the United States is to retain its power and influence in the 21st century, we will need to refocus our nation-building efforts at home. Continuing to stay in Iraq would have done more harm than good.