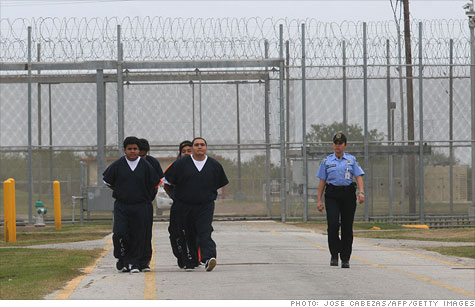 Prisoners at some Texas state jails are scaling back to two meals per day on the weekends, as part of budgetary belt tightening.
NEW YORK (CNNMoney) -- Prisoners in Texas jails have been tightening their belts as the state cuts back on weekend lunches to save money.
Since April, the Texas Department of Criminal Justice has scaled back on weekend meals to two per day, eliminating lunch.
Department spokesman Jason Clark said that prisoners in certain institutions -- including jails where inmates are serving two years or less and transfer facilities -- are now getting only "brunch" and dinner. However, he insisted that the nutritional value remains the same.
"The brunch and dinner meals provide the same number of servings of each food group as is served during the week, but those servings are distributed over two meals instead of three," wrote Clark, in an e-mail to CNNMoney.
He said this two-meal rule does not apply to inmates who are "prescribed a therapeutic diet by a physician."
The elimination of lunch is part of the state's effort to save $2.8 million during the current fiscal year.
"The decision to serve two meals on the weekend was prompted by the statewide budgetary challenges and consistent with funding decisions made by the Texas Legislature," Clark said.
Brunch is served from 5 a.m. to 7 a.m., he said, and dinner is served from 4 p.m. to 6:30 p.m.
Lisa Graybill, legal director for the American Civil Liberties Union in Texas, said that depriving prisoners of meals is less "impactful," in terms of saving money, compared to releasing some of the low-level offenders in the "overincarcerated" jail system.
"I think it's a poor substitute for some of the policy making that could really dial down the number [of prisoners,]" she said.
The average cost of feeding an inmate was $3.37 per day in fiscal 2010, said Clark, who did not have an estimate for savings.
He said this cost-saving measure is unrelated to a recent suspension of customized last meals for death row inmates. Prisoners facing execution have traditionally been allowed to choose their last meal.
But Clark said that practice ended Sept. 22, after a Texas state senator, John Whitmore, expressed indignation over the appetite of convicted murderer Lawrence Brewer.
Brewer, a white supremacist, was executed for last month for killing a black man in 1998 by dragging him from a truck. When Brewer faced imminent execution, this is what he ordered for his last meal, according to the department:
-- Two chicken-fried steaks "smothered in gravy" with sliced onions
-- Triple-patty bacon cheeseburger
-- Cheese omelet with ground beef, tomatoes, onions, bell peppers and jalapeños
-- Bowl of fried okra with ketchup
-- One pound of barbecue with a half loaf of white bread
-- Three fajitas
-- One pint of Blue Bell ice cream
-- Meat lover's pizza
-- Slab of peanut butter fudge with crushed peanuts
-- Three root beers
"The last meal was made for him and brought to him, and he didn't eat it," said Clark, noting that Brewer was the last and final inmate to receive a special last meal.
Clark said the next inmate scheduled for execution in Texas is convicted murderer Frank Garcia, who faces lethal injection on Oct. 27.
Garcia can blame Brewer for his lack of a special last meal.
"He'll be served whatever the other inmates are eating that day," said Clark.