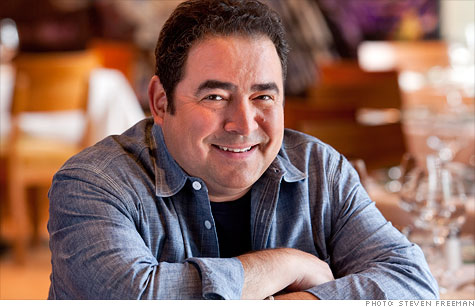 Emeril Lagasse has leveraged his culinary talent into top restaurants, best-selling books and cookware. Now, he's off to "Top Chef."
NEW YORK (CNNMoney) -- Emeril Lagasse knows the way to a consumer's heart is through food. With over 2,000 television episodes, 16 cookbooks, and 12 restaurants to his credit, the 52-year-old chef and restaurateur turned his name and culinary prowess into a financial empire that employs 1,700 people.
Long before he became a household name, and his catchphrase "BAM!" became popular, Lagasse was a young chef who worked his way up to the position of general manager at the legendary Commander's Palace in New Orleans. In 1989, he opened his first restaurant, Emeril's, and four years later, inked a lucrative television contract with The Food Network, resulting in a 17-year run.
In 2008, Lagasse kicked his business up a notch, joining the Martha Stewart family of brands in a reported $50 million deal ($45 million in cash, and $5 million in stock). Martha Stewart Living Omnimedia (MSO) acquired the assets related to Lagasse's media and merchandising business, including television programming, cookbooks, and emerils.com website and his licensed kitchen and food products.
Lagasse retained his restaurants and corporate office, which he calls Emeril's Homebase, and has continued to build a successful brand that includes cookware, tableware, and a line of gourmet food products.
In September, Lagasse premiered his new series, "Emeril's Table," on the Hallmark Channel, and released a new cookbook, "Sizzling Skillets and Other One-Pot Wonders." As he prepares to turn up the heat as a guest judge on the ninth season of the Bravo's reality show, "Top Chef," premiering Nov. 2, we asked Lagasse to share his secrets for entrepreneurs who are hungry for success.
Create a culture of loyalty. Many of my staff have been with me for over 20 years. I have a great team, and I make sure they feel respected and appreciated. I wouldn't ask any of my employees to do anything I wouldn't do. And I work as hard, if not harder than the rest of the staff, to set an example. I also believe in giving my employees a lot of room to be creative and to express themselves.
My chefs and general managers are responsible for their own restaurants, and they don't have to worry about issues such as inventory, because we have a director of operations, a director of finance and other staff who handle those jobs at our Homebase. This allows our restaurant staff to concentrate on doing what it is they do best: offering our customers exceptional food and service.
Remember persistence pays off. When I first decided to open a restaurant, I was turned down by several banks. It was the late 80's and many restaurants were failing. I refused to give up because I knew I had a good concept, so I put together a great business plan that included budgets, the kitchen design, and an analysis of the demographics, to show I was serious, focused and educated. Finally, one of the most conservative banks in the south agreed to give me funding.
Pay it forward. In 2002, I launched The Emeril Lagasse Foundation to provide culinary training, and developmental and educational programs to children in the cities where my restaurants operate. I think everyone has a responsibility to give back to the community if they can, and to help future generations learn new skills and better themselves. In the hospitality business, we can't grow if we don't invest today in the children who will be running the industry tomorrow.
Sell without selling out. I knew the chairman of Martha Stewart Living Omnimedia (MSLO) from his previous job, and one day over breakfast we talked about the possibility of Martha expanding and partnering with someone who offered food-related content. I wasn't looking to sell my brand at the time, but a few days later, her chairman called to say that Martha liked the idea and wanted to partner with my brand.
After thinking it over, I realized the merger would give my products and food lines the opportunity to grow, while also allowing MSLO to expand beyond a lifestyle brand. I think Martha is one of the smartest and hardest working people in this business, and our partnership has been a great experience.
Look at your company with fresh eyes. I really believe in listening to my customers and building a rapport with them. I have many families who have dined at my restaurants for years. And we continue to provide them with consistency and delicious food made with farm-fresh ingredients. We also try to provide a newness to their unforgettable dining experience.
One of our most requested items is my banana cream pie, but the competition in the restaurant business is too stiff for us not to keep our menus evolving. While we offer a base menu featuring customer favorites, we also change the menu two to three times a year based on the season. And we constantly reinvent new recipes to stay ahead of the game.