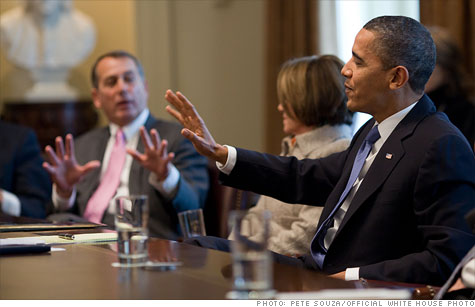 Everybody just cool your jets.
NEW YORK (CNNMoney) -- Onerous government regulations are either strangling the U.S. economy and killing job creation ... or they're not.
In Washington, there is no middle ground.
On Monday, the White House called the idea that an uncertain regulatory environment was holding back hiring a "commonly repeated misconception."
If new regulations were a significant drag, the consequences would show up in data that measure business profits, workforce trends and investment levels, the government contends.
But that's just not happening, the Treasury Department said.
Republicans offered up their own evidence on Thursday, railing against "massive amounts of red tape raining down from the administration."
In a blog post, Republican members of the House Financial Services Committee cited a Gallup poll in which 22% of small business owners identified complying with government regulations as the most important issue they face.
"One of the biggest failures of the Obama Administration is its determination to rely upon theoretical academics rather than listen to those who deal with the reality of the administration's actions," the blog post said.
But in an economy with millions of moving parts, it's easy to name other factors that are having a negative impact on hiring.
A deeper dive into the survey cited by Republicans reveals that a lack of demand is really hurting small businesses. Twenty-seven percent of respondents cited low consumer confidence and slack demand as their biggest problem. Lack of credit is another significant drag.
And a quick look at Bureau of Labor statistics data on mass layoffs bolsters the claim that weak demand is playing an outsized role in the nation's stumbling recovery.
In the first two quarters of this year, employers reported only 2,085 new unemployment claims were attributed to government regulation, while 55,759 were tied to insufficient demand.