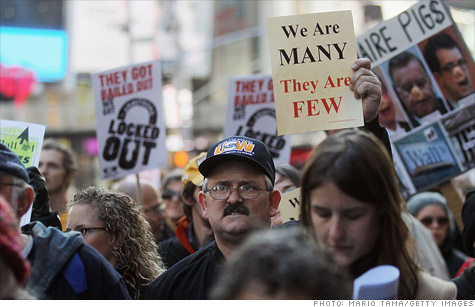 Members of the Occupy Wall Street movement delivered letters on Friday at the Manhattan headquarters of some of Wall Street's biggest banks.
NEW YORK (CNNMoney) -- Occupy Wall Street is getting personal.
After railing against Wall Street greed for weeks from their encampment at Zuccotti Park in New York, a group went on the move Friday, dropping off thousands of letters addressed to Wall Street executives.
Although the protestors have based themselves at the park in Lower Manhattan, a number of the biggest "Wall Street" banks actually have their corporate headquarters in Midtown, a few miles to the north.
While bank executives did not emerge from their offices to accept the letters, group members outside the bank buildings used their "people's mic" system to ensure that their sentiments were heard loud and clear.
"Every day, the 99% are fighting to survive, and it's the hardest work you can imagine," said Maria Maisonet of Brooklyn, reading out a letter addressed to JPMorgan Chase CEO Jamie Dimon, Bank of America's Brian Moynihan, Citigroup's Vikram Pandit and Wells Fargo's John Stumpf.
"My nephews and my son tell me they feel like bums because, even though they're trying and trying, they can't get a job. You are the problem, not us."
After gathering around 300 people in Bryant Park, organizers broke the marchers into two groups. One traveled to the headquarters of Bank of America (BAC, Fortune 500) and Morgan Stanley, while the other went to Citigroup and Wells Fargo, before they converged at the imposing JPMorgan Chase building.
Police formed a cordon around the group and provided security outside the bank buildings, but the march was a peaceful affair, with a singing protest outside Wells Fargo and a number of marchers in costume ahead of the Halloween weekend.
Elsewhere around the country this week, however, similar "Occupy" protests have been faced with disorder. Three protestors in Tampa were arrested Friday after members of the group allegedly shoved a police officer, while 51 people were arrested early that morning in San Diego for violating a park curfew and assembling unlawfully.
On Thursday, Oakland mayor Jean Quan apologized after police cracked down earlier this week on a protest in the city in a violent episode that left an Iraq war veteran hospitalized with a fractured skull.
Prior to the gathering in New York, organizers printed off copies of more then 6,000 letters submitted to the website OccupyTheBoardroom.org over the past few weeks and directed to Wall Street leaders.
Upon arriving at Bank of America headquarters, protestors folded copies of the letters into paper airplanes and launched them toward the entrance of the building, where they landed among the police and security guards massed outside.
At Morgan Stanley, march organizer Austin Guest left his phone number with security outside. Guest asked that it be given to CEO James Gorman, inviting him to have lunch with some of the demonstrators.

"We'll pick up the tab," Guest joked. "We've been doing it for the last few years."
The march concluded at JPMorgan Chase (JPM, Fortune 500) headquarters, where several marchers shared their stories before lining up to deliver their letters as bank staffers looked on from inside the building.
Mimi Pierre Johnson, from Elmont, New York, told the crowd that she had been struggling to make her mortgage payments since losing her job four years ago. In a letter directed to CEO Jamie Dimon, Johnson said that despite more than a dozen applications, Chase still has not granted her a mortgage modification.
"I am sure that if you came to Southeast Queens and saw the devastation, the vacant houses with their littered lawns and boarded-up windows, you would sing a different tune when it came to mortgage modifications," Johnson said.
"Name the time and date, Mr. Dimon, and I will personally escort you through the community."