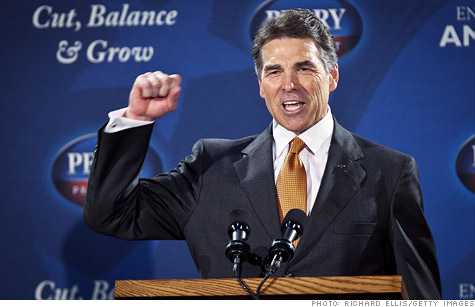 Rick Perry promises 2.5 million new jobs. But that's not enough.
NEW YORK (CNNMoney) -- Rick Perry's first campaign ad kicks off with a promise.
"As president, I'll create at least two-and-a-half million new jobs," Perry says before touting his energy and regulation policies.
One problem: While 2.5 million new jobs sounds great, it's not going to be nearly enough -- no matter who is elected president in 2012.
That's because the economy has lost 8.8 million jobs since the great recession began -- and only 2.1 million have been gained back since, according to data from the Bureau of Labor Statistics.
Perry has made job creation the cornerstone of his presidential bid. On the campaign trail, the governor frequently mentions the jobs created in Texas during his 10 years in office.
But a quick look at job creation under previous presidents shows that Perry can afford to be a little more ambitious when talking jobs on a national scale.
Take the Clinton presidency for example. The economy added more than 22 million jobs during the eight years Clinton was in office, according to BLS data. That's the best performance of the modern era.
Ronald Reagan was no slouch either. The economy added 16 million jobs over his two terms. Jobs grew during Jimmy Carter's single term at a rapid clip: 10 million over just four years.
George H.W. Bush hit the mark Perry is aiming for, overseeing an economy that created 2.5 million jobs in a single term.
But Perry could just be facing reality. The national unemployment rate is above 9%, where it has been stuck since May 2009. And no president can wave a magic wand and create jobs.
Perry's campaign said Monday that the governor's broader economic plan, released just last week, has the potential to create jobs beyond 2.5 million. A spokesman declined to pinpoint exactly how many jobs, but said the campaign expects the plan to spur significant growth.
President Obama is having a particularly tough time on the employment front, with a massive jobs hemorrhage early in his term resulting in more than 2 million jobs lost at last count.
While that number is starting to come down, the economy is still producing jobs at a relatively slow pace. The latest report card will be issued on Friday. Economists surveyed by CNNMoney expect unemployment held steady at 9.1% in October, as the economy added about 102,000 jobs.
If Perry does bump his jobs promise to a higher level, he will have company. Rival candidate Mitt Romney has already promised his economic plan will create 11 million new jobs over four years.