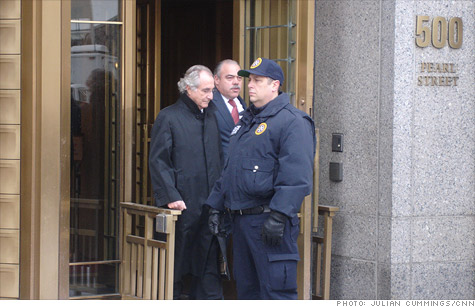 A federal judge tossed out a lawsuit against JPMorgan and UBS, accused of profiting from the Ponzi scheme of Bernard Madoff (left.)
NEW YORK (CNNMoney) -- Banks trying to stave off huge pay outs over the Bernard Madoff mess have scored a key win in court.
A federal judge on Tuesday tossed out lawsuits totaling more than $20 billion against JPMorgan Chase and UBS, which are accused of profiting from Madoff's Ponzi scheme.
The suits were filed by court-appointed trustee Irving Picard, who is trying to grab back as much money as he can to distribute to the investors and others who Madoff swindled.
But the suits were dismissed by U.S. District Court Judge Colleen McMahon, who ruled that Picard lacked legal authority to pursue the cases as he presented them.
JPMorgan (JPM, Fortune 500) had $19 billion on the line and UBS (UBS) $2 billion.
Representatives of both banks applauded the judge's ruling.
Picard vowed to appeal to a higher court. "The trustee and his counsel remain confident in the cases brought against JPMorgan Chase and UBS," said Amanda Remus, a spokeswoman for Picard's law firm, Baker & Hostetler.
The trustee had accused JPMorgan of knowingly participating in the Ponzi scheme. The lawsuit referred to a risk officer for JPMorgan who, prior to Madoff's arrest in December of 2008, allegedly mentioned "there is a well-known cloud over the head of Madoff and that his returns are speculated to be part of a Ponzi scheme."
JPMorgan has denied those accusations.
The trustee has filed about 1,000 lawsuits worth some $100 billion worth of suits against individuals and companies accused of profiting from Madoff's pyramid-style scheme. That's five times the $20 billion that Madoff is believed to have cheated from his clients while masquerading as an investment firm.
But the JPMorgan/UBS case is only the most recent courtroom loss limiting how much money the trustee may be able to collect.
Picard suffered a high-profile blow in his attempt to collect $1 billion from the owners of the New York Mets baseball team, Fred Wilpon and Saul Katz. In September, a federal judge dismissed most counts of Picard's suit.
The trustee has sued anyone who he believes has profited from Madoff's Ponzi scheme, regardless of whether these "net winners" knew it was a scam.
The Mets owners and other defendants maintain that they thought they were investing in a legitimate business, not a Ponzi scheme. The targets of Picard's lawsuits typically present themselves as victims, not perpetrators.
The trustee and the U.S. Marshals have recovered about half of the $20 billion that was lost to the Ponzi scheme.
A large chunk of the assets recovered so far -- $7.2 billion -- is from a settlement with Barbara Picower, widow of Jeffry Picower, who is believed to be the largest beneficiary of the scheme.
Jeffry Picower died of a heart attack in 2009. His widow maintains that she knew nothing of Madoff's scheme prior to his arrest and that she wanted the money returned to the victims.
The trustee has recognized 2,425 victims as eligible to receive funds from recovered assets. Last month, the trustee began to distribute the first $312 million from these assets to the victims. In addition, nearly $800 million in coverage from the Securities Investor Protection Corp. has already been distributed to victims.
Meanwhile, Madoff languishes in a federal prison in Butner, N.C. He pleaded guilty to 11 counts in federal court in New York in March, 2009, and was sentenced to 150 years in prison. His release date is Nov. 14, 2139.