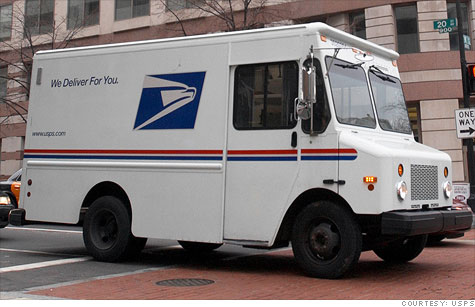 A group of senators say they have a proposal to save the U.S. Postal Service.
WASHINGTON (CNNMoney) -- A small bipartisan group of lawmakers announced a proposal to save the U.S. Postal Service that would make it possible to cut Saturday service in two years, close post offices and buy out 100,000 workers.
The bill would allow the cash-strapped U.S. Postal Service tap a $6.9 billion overpayment to the Federal Employment Retirement System, a move that several House Republicans have opposed, dubbing it a bailout.
The bill would direct $1.7 billion of that overpayment to offer up to $25,000 cash buyouts or up to two years of service credits toward retirement for experienced employees near retirement. If 100,000 workers take the buyout, the move could save $8 billion, according to the U.S. Postal Service.
The rest of that money could be used to pay down debt that the U.S. Postal Service has taken on to pay bills, said Sen. Susan Collins, a Maine Republican, who was among those who helped craft the deal.
"Without taking controversial steps like these, the Postal Service just isn't going to make it, and that would be terrible. said Sen. Joseph Lieberman, a Connecticut independent who caucuses with Democrats. "We must act quickly to prevent a postal service collapse."
Other lawmakers in on the proposal include Sen. Tom Carper, a Delaware Democrat, who runs the panel that oversees the U.S. Postal Service and Sen. Scott Brown, a Massachusetts Republican.
Congress would need to pass the proposal, which has yet to be reviewed by House Republicans or the White House.
Postal unions had not yet reacted to the proposal, but they've been opposed to past recommendations that included employee layoffs.
The Postal Service is in a bind. Mail volume is down more than 20% over the past four years and losses have topped $20 billion.
The more pressing deadline: The Postal Service has until Nov. 18 to make a $5.5 billion payment that's due to its retiree health care fund. It's poised to default.
The bill would also make it so the Postal service wouldn't have to worry about such pressing health care deadlines. Under a 2006 law, the U.S. Postal Service has to prepay its retiree health care benefits within a decade. The bill would give the agency 40 years to pay for retirees' health care benefits, which would lower the required payments.
The bill also gives the agency and its unions until September 2012 to negotiate a separate health insurance plan for U.S. Postal Service retirees that cuts health care liabilities. But the bill doesn't appear to say what happens if they don't reach a deal.
The Postal Service's potential default has spurred the White House and lawmakers of both parties to offer competing bills that run the gamut from ending Saturday service to hiking stamp prices and even laying off or buying out postal workers.
The proposals have spawned a big public reaction -- neighbors packing public hearings to oppose closure of local post offices and union rallies of lawmakers' offices to protest layoffs.
For its part, the U.S. Postal Service last month announced a hike in the price of a first class stamp by one cent starting Jan. 22 to 45 cents, its latest move to help raise revenue.
Also, postcard postage will increase 3 cents to 32 cents. Letters to Canada and Mexico will jump 5 cents to 85 cents, while letters to other international destinations will spike 7 cents to $1.05.
House Republicans have been working on a bill offered by Rep. Darrell Issa of California. The bill would end Saturday service, ban the post office from promising no layoffs to new employees, and create panels -- resembling the ones convened to close military bases -- to study and recommend which post offices should be closed.
Issa said through a spokesman that he'd review the Senate bill and applauded "Senators' recognition that the Postal Service requires a fundamental restructuring and not a taxpayer funded bailout."