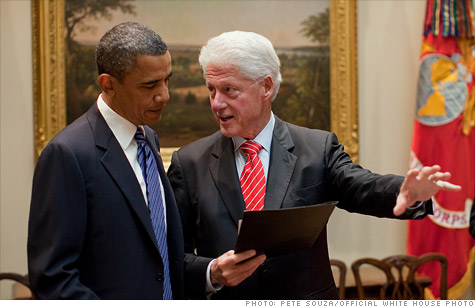 Bill Clinton has a few ideas he'd like to run by you.
NEW YORK (CNNMoney) -- Move over Congress. Move over President Obama. Bill Clinton is back -- and he has a lot of economy-fixing ideas.
The elder Democratic statesman has crammed his latest book -- called "Back to Work" -- with dozens upon dozens of policy prescriptions designed to get the economy back on track.
Clinton hammers one point over and over: Government is good, and the policies of "antigovernment ideologues" would only "push the pedal to the metal of the most destructive trends of the last thirty years."
So how can the United States get back on track?
"We need to get our game face on," Clinton writes.
A few of his ideas: Homeowners with underwater mortgages should have their loan principal reduced, U.S. companies should be allowed to repatriate profits held overseas and investment in green jobs and infrastructure must be increased.
Clinton says the country needs "a rapid, comprehensive effort to resolve the ongoing mortgage crisis."
Every delinquent homeowner with a mortgage worth more than the house should have the principal written down or the loan's term extended at a lower interest rate. Another option: If a homeowner can't make reduced payments, they should be allowed to exchange a deed for a multi-year lease.
If those options don't work for a homeowner, foreclosure should be expedited.
On the corporate tax code, Clinton says he favors reforming the system in a way that would lower tax rates but not the amount of revenue collected by the Treasury.
And in the near-term, Clinton says Congress should allow companies with earnings held overseas to repatriate that money at a tax rate below the usual 35% -- say 15% to 20%.
If a company is able to prove they will use their repatriated profits to create new jobs in the United States, the tax rate should be dropped all the way to 0%.
With as much as $1 trillion in profits being held overseas, the scheme could create a nice chunk of revenue for the Treasury. Clinton says that money should be used to fund infrastructure grants to the states.
Many of Clinton's other proposals would try to create jobs linked to projects that would help change the way Americans produce and consume energy.
For example, Clinton wants an "aggressive, fifty-state building retrofit initiative" that is financed with a government-backed loan guarantee program. Meanwhile, states should launch their own retrofit programs. Congress should bring back full tax credits for green tech jobs.
The United States should also develop more efficient biofuels, work to harness geothermal heat and extract more natural gas -- a process that often requires companies to use the controversial "fracking" technology.
At the very least, rooftops should be painted white, Clinton says, to help cut down on energy costs.
In all, Clinton lists 46 bullet-point ideas to help the economy, but he sneaks a few more in around the margin.
However, many of the ideas would require congressional action.
And as Clinton points out, Washington is tied in knots at the moment -- totally consumed by partisanship. Very little legislation has successfully emerged from Congress this session.
And after all, that is where the rubber meets the road.