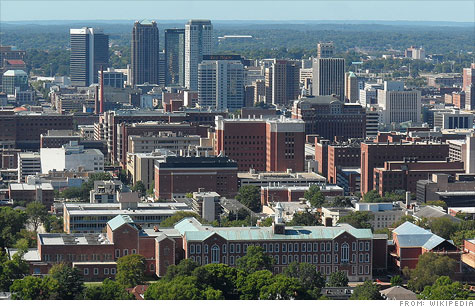 Downtown Birmingham, in Jefferson County, Alabama.
NEW YORK (CNNMoney) -- Alabama's Jefferson County is set to file for the largest municipal bankruptcy in U.S. history after commissioners failed to approve a settlement on the county's billions in debts.
Plagued by budget woes, Jefferson County had narrowly avoided filing for bankruptcy in September after reaching a deal with creditors on the billions borrowed for a sewer project. On Wednesday, however, county commissions decided that the debts had become unsustainable.
County commissioner Sandra Little Brown called the bankruptcy vote "a bitter ending."
"It was a decision that I didn't really want to make," she told CNN affiliate WVTM. "But right now we were left with no other alternative."
Alabama governor Robert Bentley said he was "disappointed" with the commissioners' decision.
"Bankruptcy will negatively impact not only the Birmingham region, but also the entire state," Bentley said. "My administration has worked closely with the Jefferson County Commission, the sewer creditors and legislators to work toward a settlement that is in the best interests of the Jefferson County residents and rate payers."
Jefferson County is currently $4.2 billion in debt, including $3.1 billion for the sewer project, to creditors including JPMorgan (JPM, Fortune 500) and Bank of America (BAC, Fortune 500). The county ran into trouble in part because of a swap agreement that caused its interest rates to spike during the financial crisis of 2008.
Alabama attorney general Luther Strange said in a statement Wednesday that his office would work to ensure that sewer system rates don't spike as a result of the bankruptcy.
"We will diligently review any rate structure proposed during the bankruptcy proceedings to ensure that rates are just and reasonable," he said.
The vote in Jefferson County, which includes the state's largest city, Birmingham, follows a vote to file for bankruptcy protection last month by the city council of Harrisburg, Pennsylvania, the state capital.
State officials in Pennsylvania responded at the time that the council did not have the authority to file for bankruptcy.
Wilson White, an expert on municipal bonds who has written several books on the subject, said the situations in Harrisburg and Jefferson County aren't cause for concern about the wider muni-bond market.
"Both relied on unusual financing agreements that got them into trouble," he said. "It isn't an economic problem -- it's a financial problem, because they did some things that they're sorry they did."
CNN's Vivian Kuo and Joe Sutton contributed to this report.