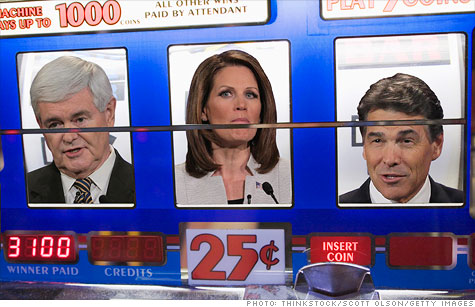 Pull the lever and take a spin.
NEW YORK (CNNMoney) -- Know a lot about politics? Think Mitt Romney is a lock to win the 2012 Republican presidential nomination? Wanna put some money on it?
You can.
The web is teeming with futures markets that will let you place a wager on the outcome of all kinds of events. One of the most popular is Intrade, a website based in Ireland.
Intrade lets users swap contracts on events with a yes or no outcome. President Obama will win reelection, or he won't. A correct prediction moves the value of a contract to $10. A miss leaves you with $0.
Wagers can be placed on all kinds of stuff -- like whether a bird flu epidemic will hit the United States or if alien life will be detected before the end of the year.
But Intrade isn't just about betting. Its users are -- taken together -- shockingly good at correctly forecasting election results.
Intrade bettors correctly picked the winner of every single state during the 2004 presidential election. In 2008, they missed two -- wrongly calling Indiana for John McCain and Missouri for Barack Obama.
And that is way, way more accurate than most single polls -- to say nothing of the predictions offered by the professional pundit class.
"Most of the evidence certainly suggests looking at prediction markets will give you a better handle on elections than looking at polling data," said Forrest Nelson, a professor at the University of Iowa, who helps run the Iowa Electronic Market.
Why is a prediction market better than a poll?
The idea is this: Just like Wall Street, the collective wisdom of thousands of bettors with skin in the game will yield a better guess than isolated data points.
"Prediction markets are a better way of aggregating information than just one poll," said Ray Fair, an election forecaster and Yale professor. "The market knows every poll."
Just like a stock market, users react quickly. It took less five minutes for Rick Perry's odds to drop from 8.6% to 3.0% after the candidate struggled to name a federal agency he wanted to eliminate during a recent debate.
Part of Intrade's predictive power lies in the questions being asked.
"A poll asks who are you going to vote for. We ask who you think is going to win," said Carl Wolfenden, an Exchange Operations Manager at Intrade.
That can lead to disconnect between polling data and what Intrade users are predicting.
For example, Intrade put Mitt Romney's odds of capturing the Republican nomination for president at 70% on Monday, while a fresh CNN/ORC International poll put the frontrunner's support at 24%.
At the same time, Intrade users aren't shy about betting against a candidate who is doing relatively well in the polls. The site's bettors have Herman Cain's chances at 4%, while the businessman is polling at 14%.
Another reason for Intrade's accuracy? Cash money is on the line.
"People lie to pollsters," said Nelson. "In a prediction market, if you lie, you're losing money."
But nothing can guarantee total accuracy. Even with a monetary incentive, Intrade users don't always get it right.
The site's users have difficulty in predicting more obscure events where limited amounts of data are available -- like early state primaries and other contracts that are thinly traded.
"Many of the markets are thin, and that's a problem," Fair said.
Thinly traded contracts give single users an outsized voice in the market, creating the potential for results that skew in one direction or the other.
And around the margins -- when a candidate stands very little chance of winning, or has already locked up the race -- the market becomes far less perfect, Fair said.
That's because Intrade is really an exchange, meaning a bet can only be placed when a buyer can be found to take the other side of the contract, which becomes difficult with very high or low probability events.
Intrade's Wolfenden said that 2012 political contracts are already attracting a substantial amount of trading.
So far, over 3,000 users have swapped some 2.4 million contracts relating to the 2012 Republican primary. In 2008, 8,200 traders moved 9.5 million contracts over the course of the entire election cycle.
And how about the $1 million question? Will President Obama win reelection?

Intrade bettors are sitting on the fence -- along with most of the Washington establishment. The odds of another term for Obama were just over 51% on Monday.