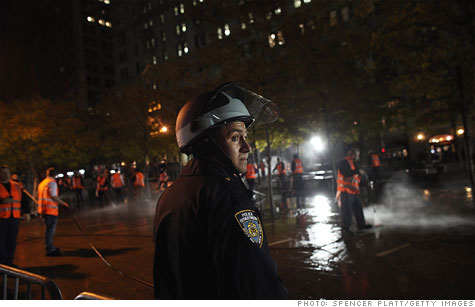 Protesters won't be allowed to bring tents, tarps or generators into Zuccotti Park.
NEW YORK (CNNMoney) -- A judge made life much tougher for the Occupy Wall Street movement Tuesday, backing New York City's attempt to prohibit tents and overnight camping at Zuccotti Park, the movement's spiritual home.
The order has thrown the future of the Occupy Wall Street -- at least at Zuccotti Park -- into doubt.
Ousted from their commandeered sleeping quarters in the early hours of Tuesday morning, protesters spent much of the day marching around lower Manhattan looking for alternate locations before returning to the park.
And there -- after hours of waiting -- they learned their accommodations will be decidedly more austere.
Some didn't seem to mind, while others voiced concerns about facing much colder weather without tents, tarps and other equipment.
"We're gonna keep doing what we're doing," said Ted Alexandro, a protester. "This movement isn't dependent on a single location. It will find a home."
The order from the New York Supreme Court does not prevent protesters from gathering in the park, but says their First Amendment rights do not include remaining there "along with their tents, structures, generators, and other installations to the exclusion of the owner's reasonable rights and duties."
The park's owner -- Brookfield Properties -- has raised sanitation and health concerns.
After the ruling was issued, police allowed protesters to return to the park, but bags were checked for newly-prohibited items.
If the new regulations continue to be enforced, the substantial infrastructure that protesters had established -- including a library and comfort center -- will be difficult to recreate.
What are protesters going to do?
"Stay," said Kimi Thompson, a New Yorker who has been visiting Occupy Wall Street's home base as often as possible.
Thompson said that while some protesters will likely stay at the park full time, others will rotate in and out, as they've been doing for weeks.
Meteo Ryall, who had been sleeping in the park, said he was planning to do so again Tuesday night.
"We're going to sleep in the park," he said. "We'll have to do as best we can. I don't know. I think we'll adapt our strategies and not give up."
Protesters talked throughout the day about establishing a new home base, and some made an excursion to an empty lot a few blocks to the north, but a heavy police presence at that location discouraged protesters, who eventually marched back to Zuccotti.
There was some hope among protesters that even with the loss of a camping space, the movement will continue to grow.
"Hopefully this catalyzes people," Ryall said. "If it doesn't and people aren't really that interested, then I don't know what's going to happen."