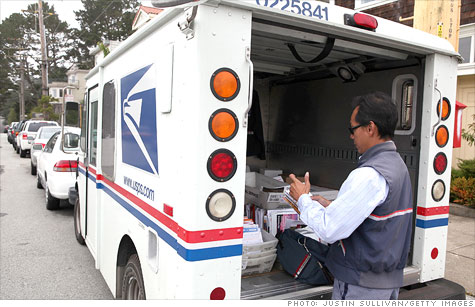 The government has been working on ways to rescue the ailing Postal Service, which reported a massive loss on Tuesday.
NEW YORK (CNNMoney) -- The U.S. Postal Service released its annual financial results on Tuesday, and they're nothing to write home about.
The agency reported an annual loss of $5.1 billion, as declining mail volumes and mounting benefit costs take their toll. The Postal Service said its losses would have been roughly $10.6 billion if not for the passage of legislation postponing a $5.5 billion payment required to fund retiree health benefits.
Revenues from First-Class Mail, the Postal Service's largest and most profitable product, declined 6% from the previous fiscal year to $32 billion. Total mail volume declined by 3 billion pieces, or 1.7%.
"The continuing and inevitable electronic migration of First-Class Mail, which provides approximately 49 percent of our revenue, underscores the need to streamline our infrastructure and make changes to our business model," Postal Service CFO Joe Corbett said in a statement accompanying the figures.
Postmaster General and CEO Patrick Donahoe said in the statement that the Postal Service must reduce its annual costs by $20 billion by the end of 2015 to return to profitability.
Last year's losses hit $8.5 billion, despite deep cuts in expenses and staffing. Mail volume is down more than 20% over the past four years.
The government has been working on ways to save the Postal Service over the past few months as it continues to hemorrhage money. Last week, a Senate panel passed a cost-cutting deal that buys out some employees and cuts worker compensation benefits for some retirees but maintains Saturday mail service for at least two more years.
The Coalition for a 21st Century Postal Service, a mailing industry group, said Tuesday that the agency's losses highlight the need for further action by the government.
The Postal Service "is encumbered with an outdated operating structure and debilitating labor contracts, while being saddled with expensive, mandated over-payments into government retiree funds," the Coalition said in a statement, claiming that 8 million private sector jobs rely on the Postal Service.
The Postal Service wants to cut costs by closing nearly 3,700 facilities in the U.S. and replacing existing government health care and retirement plans. It also wants to void union contracts in order to lay off 120,000 postal workers, a move strongly opposed by the Obama administration.
"The Postal Service can become profitable again if Congress passes comprehensive legislation to provide us with a more flexible business model so we can respond better to a changing marketplace," Donahoe said.
The competition, meanwhile, has been reporting solid growth. In September, FedEx (FDX, Fortune 500) reported a 22% year-over-year increase in quarterly earnings. UPS (UPS, Fortune 500) said last month that its quarterly earnings grew 14% from the prior year.