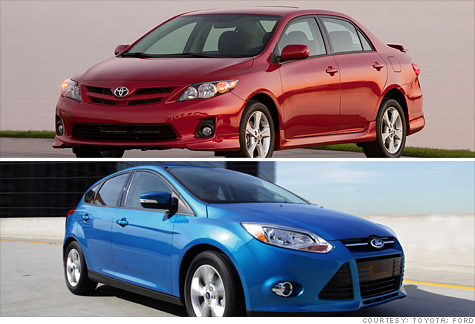 Now that Japanese automakers are getting back on track, Toyota's Corolla is topping the Ford Focus in sales.
FORTUNE -- For all the talk about the Detroit Three's big revival, October sales in two key segments --compacts and subcompacts -- show that imports still reign supreme.
For a time this past summer, production at Toyota and Honda was constrained by the earthquake and tsunami, and the domestics' prospects suddenly brightened. But with parts now moving just-in-time again, assembly plants have resumed production at normal rates, and the Japanese makers have returned to their traditional leadership positions. As an analysis of October sales reveals, their fastest-rising challengers do not, in fact, come not from the ranks of the domestics but are represented by a pair of hard-charging import brands, Hyundai and Volkswagen.
Part of the problem is that a couple of highly touted Detroit newcomers have been unable to consistently perform at a high level. The Chevrolet Cruze, after a hot summer start, has noticeably cooled off -- so much so much so that General Motors (GM, Fortune 500) is halting production for eight days to work off inventory. Ford's Focus stumbled out of the gate and has never gotten up to the speed that Ford (F, Fortune 500) executives expected. It is barely outselling last-year's cheap-and-cheerful model.
Smaller cars don't add much to the bottom line because of their low selling prices and ferocious competition. But they are key to building brand loyalty with entry-level buyers and essential in meeting increasingly stiff requirements for corporate average fuel economy. One caveat: Sales can vary widely from month to month depending on individual manufacturers' use of marketing incentives and other factors. The big variable in October was the ability of some Asian manufacturers to build enough cars to satisfy demand.
Among subcompacts, the homely and unloved Toyota Yaris was the sales winner in October, while Hyundai's Accent came in second. Ford's Fiesta and GM's combination of the old Aveo and new Sonic came in third and fourth. A stronger performance by Honda would have pushed them even further down in the standings, but the Japanese automaker got hammered by last month's Thailand floods, and supply remains constrained.
Natural obstacles notwithstanding, Japan's Big Two were able to push out enough cars in October for Toyota Corolla to lead the compact segment and Civic to finish third. Cruze hung on to second place, while the VW Jetta and Hyundai Elantra outperformed the sixth-place Focus, despite weaker distribution systems.
Cruze had been selling at a 20,000-a-month clip and led the compact segment. GM was boasting about its results. "We are competitive for the first time ever," declared GM's chief marketing officer Joel Ewanick. "The buyers are completely different than the ones we have seen before" -- namely Toyota (TM), Honda, and Hyundai customers who couldn't get the cars they wanted. In October, the supply shortage eased and Cruze fell back to earth; sales dropped to 14,295. As an analyst for Kelley Blue Book observed: "It's impossible to know for sure how Chevy Cruze sales might have fared in a world that never suffered a devastating earthquake in Japan." And GM didn't scrimp on incentives. According to an analysis by Edmunds.com, Chevy's true cost for sales lures was $1,041. Toyota spent $1,578 per car on Corolla and Honda $1,139 on Civic.
Unexpectedly, the all-new third-generation 2012 Focus barely outsold the aging model it replaced, which had been on sale in North America in one form or another since 2000. Ford sold 10 fewer units in October than it did in September, sending sales and marketing vice president Ken Czubay back to his cloudy crystal ball. Thirty days earlier, Czubay had promised sales would bump higher in October, saying "Put it on your calendar a month from now. We're going to have a good October with Focus." When October didn't measure up, Czubay defended Focus sales levels as "on plan," according to Edmunds.com, and insisted that Ford has been "meeting our sales targets on Focus."
The performance of the 2012 Focus is muddied a bit because the sales of some older models are included in the October numbers. But Ford concedes it has had a slow launch, blaming, among other things, shipments from the instrument panel supplier. That shortfall has been corrected; at last count, there was a 79-day supply of Focus cars on dealers' lots.
Part of the problem is that traditional Focus customers are suffering sticker shock; the new car is much more expensive. Transaction prices for the 2012 Focus are running about $20,000 compared with $16,000 for the older model, due to a richer mix and expensive options like the (troubled) Ford MyTouch voice and fingerpoint screen controls. "The Focus now transacts at higher prices than all of its domestic, Japanese and South Korean Competitors; $1,000 more than the redesigned Civic and over $2,300 more than October's best selling Corolla," says Edmunds.com Analyst Jeremy Acevedo.
Higher transaction prices are a double-edged sword, of course: Ford likes the better-heeled customers and higher revenue but, as Acevedo points out, "The premium price point could be a deterrent for some compact shoppers looking for value in the segment." Anecdotal evidence suggests that many old Focus customers are moving into smaller Fiestas instead.
One piece of good news for Ford is that the upscale Focus seems to be resonating on the East and West coasts, where the automaker has traditionally been weak. According to Ford sales analyst Erich Merkle, Focus retail sales year to date are up 35% in California and 7% in New York.
Moving up the size and price ladder to mid-size cars, the news is no better for the domestics. Toyota, Honda, Nissan, and Hyundai all outsell Ford's Fusion and Chevy's Malibu. That may change next year when a revamped Malibu is due, but for now the message for Detroit is to hold off any more declarations of "mission accomplished."