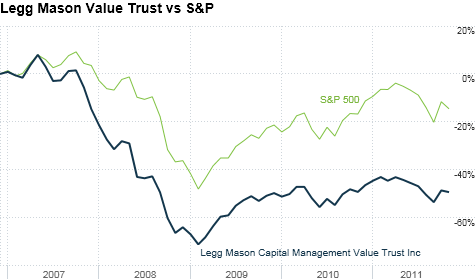 NEW YORK (CNNMoney) -- Legendary portfolio manager Bill Miller plans to give up management of the flagship stock fund at the Legg Mason Capital Management fund that made him famous.
Miller will remain the chairman of Legg Mason (LM), but the firm announced Thursday that effective April 30, he will no longer manage the Legg Mason Capital Management Value Trust (LMVTX), and will no longer be the firm's chief investment officer.
Miller became famous on Wall Street for guiding that fund to beat the S&P 500's performance for 15 straight years, from 1991 through 2005. He had managed it since its inception in 1982.
Since the streak ended in 2006 the fund has beat the S&P only once, in 2009. That year -- immediately following the global financial meltdown -- the fund's holdings had an even better rebound than the broader market. Year-to-date this year the fund has been struggling. Its shares have lost 5.5% of their value, compared to a 3.3% decline in the blue chip index.
Sam Peters will become sole manager of Value Trust and the Value Equity funds in May. He will also assume the CIO title of the Baltimore-based firm. Peters was named co-manager of the fund last year so eventually he could assume the sole manager role, Miller said.
"We have had a long and thoughtful transition process going back more than six years," said Miller. "We recognized Sam as a potential portfolio manager for Value Trust when we hired him in 2005, then observed his steady hand during the 2008 financial crisis."