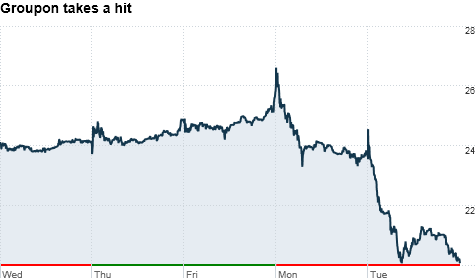 Click the chart for more on Groupon stock.
NEW YORK (CNNMoney) -- This holiday week hasn't been a happy one for Groupon. Its shares took a major hit for two days in a row.
A downturn in the broader market this week has hit tech stocks, but Groupon and other newly public startups have fallen even more than the rest of the sector on renewed dot-com bubble concerns.
Groupon (GRPN) shares plunged 10% on Monday and fell almost 15% on Tuesday to close at $20.07. That's mere pennies above the $20 price of Groupon's initial public offering earlier this month.
This year has been chock-full of Internet IPOs, and their typically large early gains have led to concerns about overvaluation.
Shares of business networking site LinkedIn (LNKD) were trading 7% lower for much of the session on Monday, the first day that some company insiders were allowed to dump the stock.
That phenomenon isn't exclusive to LinkedIn. It's typical for IPOs to include 180-day "lockup" agreements that prevent certain early investors from unloading their stakes.
Groupon's own lockup period ends May 2. Internet radio company Pandora's (P) ends on December 12, and real estate Zillow's (Z) expires January 16.
Shares of all three of those companies fell after the LinkedIn news on Monday -- Zillow lost almost 13% and Pandora slipped about 3% -- and their losses extended on Tuesday. Investors are clearly concerned about others following LinkedIn's dour post-lockup path.
So far this year, investors have mostly shrugged off unprofitability and overvaluation concerns. But as 2011 is nearing its end, the honeymoon period might be too.