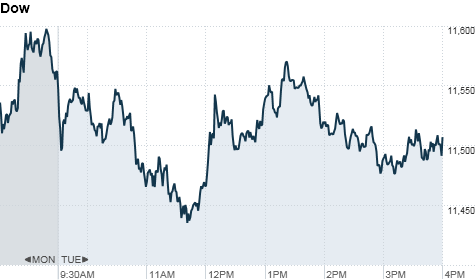 Click the chart for more stock market data.
NEW YORK (CNNMoney) -- Stocks ended in the red Tuesday, amid worries about U.S. economic growth.
But losses were trimmed after the International Monetary Fund unveiled an enhanced lending program to help countries struggling with short-term liquidity problems from Europe's debt crisis.
The Dow Jones industrial average (INDU) ended down 54 points, or 0.5%. The S&P 500 (SPX) slipped 5 points, or 0.4%, and the Nasdaq composite (COMP) lost 2 points, or 0.1% Earlier, all three indexes were down about 1%.
The turnaround came after the IMF announced that it is revamping its lending facility to better serve "crisis-bystanders," the countries with strong economic policies and fundamentals that are struggling with urgent financing needs during periods of "heightened economic or market stress."
The intergovernmental agency said that its program could be used "as insurance against future shocks" and help "break the chains of contagion."
Though the major indexes bounced off their lows following the news, they remained stuck in negative territory as investors weighed the effectiveness of the IMF's new credit line.
"It's more stimulus, but it doesn't seem that it's going to be enough," said Joseph Saluzzi, co-head of equity trading at Themis Trading. "This is certainly not the bazooka that will end all bailout talks, but it's a step in the right direction."
Meanwhile, investors remained on edge following a downbeat reading on U.S. economic growth.
Investors were disappointed by a weaker reading of economic growth in the third quarter, as it "reinforced concerns about the strength in the global recovery," said Kathy Lien, director of currency research at Global Forex Trading.
The ongoing rise in bond yields in Italy and Spain didn't help either.
"European bond holders are very likely to continue pressing for some reason to hold Spanish and Italian bonds," wrote analysts at Wells Fargo Advisors in a research note.
While recent leadership changes in Europe are steps in the right direction for the long term, they do "little to reassure investors that there is a backstop to these bond markets," the analysts wrote.
Market confidence will remain shaky until investors "know who will be Europe's lender of last resort, the ultimate guarantor of European debt," they added.
Tuesday's move lower came after stocks capped off a brutal day on Wall Street Monday, ending down about 2%, as investors reacted to the congressional super committee's failure to reach a budget deficit deal.
Congress' super committee, which had been given extra powers to tackle the country's seemingly intractable debt problems, said Monday that it could not agree on $1.2 trillion in budget reductions.
There was some relief Tuesday after major ratings agencies reaffirmed the U.S. credit rating.
With no default or downgrade threat looming, the market impact of the super committee's letdown is likely to be "muted" relative to the summer's debt ceiling debacle, said Jeff Kleintop, chief market strategist at LPL Financial.
Still, the collapse of budget talks could have longer-term ramifications, said Sebastian Galy, a senior currency strategist at Societe Generale, in a research note.
"The super committee's failure didn't stress the rating agencies, but if payroll tax cuts can't be extended -- the risk of recession in 2012 goes up materially," Galy said. "And the 'better than expected' economic data we have been seeing becomes far less relevant, as we all peer through fog at the bleak outlook for 2012. And that makes the S&P look vulnerable or at least, well capped."
Economy: The economy grew at a 2% annual rate in the third quarter -- a half-percentage point slower than originally reported, according to the government's second estimate of third-quarter GDP growth released Tuesday.
Analysts surveyed by Briefing.com expected the estimate would remain unchanged -- an annualized increase of 2.5%.
Investors welcomed signs that the Federal Reserve is at least debating whether or not it should further ease monetary policy in the future.
While members of the central bank's monetary policy committee "generally preferred to retain the existing" measures, "a few members indicated that they believed the economic outlook might warrant additional policy accommodation," according the the Fed's minutes from its November meeting.
Still, the Fed is not willing to use all the arrows in quiver just yet, said Mark Lamkin, chief investment strategist at Lamkin Wealth Management, adding that the minutes prove that "the Fed is still in a wait-and-see mode."
World markets: European stocks closed lower. Britain's FTSE 100 (UKX) slipped 0.1%, while the DAX (DAX) in Germany slumped 1.1% and France's CAC 40 (CAC40) lost 0.4%.
Asian markets ended little changed. The Shanghai Composite (SHCOMP) edged down 0.1%, the Hang Seng (HSI) in Hong Kong ticked up 0.1% and Japan's Nikkei (N225) slid 0.4%.
Companies: Shares of Netflix (NFLX) slumped after the video-streaming subscription service announced that it expects to be unprofitable in 2012. Netflix also said that it will sell $400 million in common stock and convertible notes.
Fusion-io (FIO), which first debuted on the New York Stock Exchange in June, said it will price its follow-on public offering of 8.84 million in common stock at $33 per share. Shares of the company fell.
Shares of Gilead Sciences (GILD, Fortune 500) jumped after the HIV drugmaker announced it is buying Pharmasset (VRUS) for $11 billion.
Campbell's Soup (CPB, Fortune 500) stock dropped after the company's fiscal fourth quarter profit tumbled 5%, as price increases failed to offset lower volumes.
Currencies and commodities: The dollar lost ground against the euro, and the Japanese yen, but rose versus the British pound.
Oil for January delivery gained $1.09 to settle at $98.01 a barrel.
Gold futures for December delivery rose $23.80 to settle at $1,702.40 an ounce.
Bonds: The price on the benchmark 10-year U.S. Treasury rose slightly, pushing the yield down to 1.94% from 1.96% late Monday.