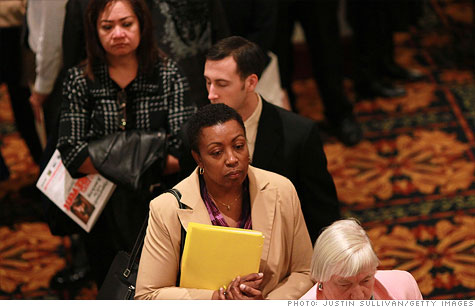 Job cuts announced this year have already surpassed last year's total.
NEW YORK (CNNMoney) -- Private-sector payrolls surged and planned job cuts eased in November, indicating some improvement in the job market and raising hopes for the government employment report due later this week.
The private sector added a seasonally adjusted 206,000 non-farm jobs in November, according to a monthly report issued Wednesday by payroll-processing company ADP. The company also boosted the number of private-sector jobs reported in October to 130,000 from the originally reported 110,000.
The ADP report trumped expectations. Analysts surveyed by Briefing.com expected private sector jobs to have increased by 125,000 in November.
In a separate report from outplacement consulting firm Challenger, Gray & Christmas, layoffs announced in November dropped slightly from the prior month -- though cuts in 2011 have already surpassed last year's total.
Challenger said 42,474 planned layoffs were announced in November, down 0.7% from October's total. That's the second straight drop after September's 28-month high of 115,730.
But job cuts announced this year are up 13% overall and now total 564,297 -- already more than 2010's full-year total of 529,973 -- with one month to go.
The reports come two days before the Labor Department issues its intensely watched monthly employment report. A CNNMoney survey of 21 economists forecasts that the economy added 110,000 jobs in November. That's compared to October, when 80,000 jobs were added to payrolls.
Most of the November gain will likely come from the private sector, where the prediction is for an addition of 135,000 jobs. That assumes they expect the government continued to lose jobs.
The unemployment rate is expected to stay unchanged at 9.0%.
Government and retail jobs, as well as those in the financial sector, have taken the biggest hit so far this year, the report showed. The government has announced cuts of more than 180,000 jobs this year, while retail has lost more than 48,000 and financial services 56,000.
Given the downsizing in the public sector, Washington, D.C., has had more announced layoffs this year than any state, with more than 98,000 cuts so far in 2011. California is next with just over 60,000 layoffs, followed by North Carolina with nearly 55,000 job cuts.
"Over the past six months, we definitely have seen a shift away from the heavy government job cuts at the state and local level toward increased job cuts at the federal level," Challenger, Gray & Christmas CEO John Challenger said in a press release.
"The worst may be yet to come, as cutbacks spread from the military to every other agency in Washington."
D.C. suffered more than 15,000 planned cuts in November alone, compared with 4,100 in California and 2,600 in New York.