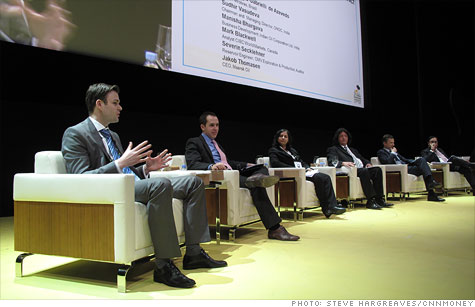 Faced with a huge amount of retiring employees, the oil and gas industry is scrambling to shake their dirty image and attract the brightest of tomorrow's workers.
Doha, Qatar (CNNMoney) -- The oil industry has a problem.
Nearly 50% of its workforce is set to retire in the next 10 years and it needs to attract new talent. But many young people don't want to work in the oil and gas business and are instead flocking to firms like Facebook, Google (GOOG, Fortune 500) or the renewable energy companies.
"The industry is not highly looked on," Manisha Bhargava, a business developer at the Indian Oil Corporation said Thursday on a panel of under-35-year-olds at the World Petroleum Congress in Qatar. "It's considered a dirty industry whose days are supposed to be limited."
The industry's trade in greenhouse gas-emitting fuels was a key theme, and key problem, identified by the panel members. Also addressed were concerns that the oil and gas business stifle entrepreneurship and promote gender inequality.
"Youth workers believe in a world where there's as little greenhouse gas impact as possible," said Severin Secklehner, a reservoir engineer at Austria's OMV Exploration and Production.
Yet Secklehner acknowledged that people don't want to sacrifice their standard of living, and offered solutions that included a greater use of nuclear power and a sharper focus on conservation.
"Why does the light in a shopping mall have to be switched on 24 hours a day, or the air conditioning on in a hotel room that is empty," he said.
Older oil executives on the panel agreed they have an image problem among today's young people, but insisted they are taking steps to change it.
"Our reputation is old fashioned, polluting, a dinosaur about to fall over," said Jakob Thomasen, chief executive of the Danish firm Maersk Oil.
Thomasen pointed to a couple of projects the company has recently undertaken -- one working with Siemens (SI) to limit the amount of carbon dioxide that's emitted from oil wells and a similar one with Qatar Petroleum -- as evidence that the culture is changing.
"We need to be safer, we need to be environmentally responsible, and that is the direction we are moving in," he said.
Other executives agreed.
"Because of the nature of what we do, some will always consider us a devil industry," said Sudhir Vasudeva, chairman of the oil and natural gas firm ONGC India.
Vasudeva said his firm is studying the potential for a massive offshore wind project, has done things like planting trees to become the first carbon-neutral company in India and has signed a commitment with the watchdog group Transparency International to root out corruption.
"We have taken it upon ourselves," he said. "Change will come, slowly and gradually."
Petrobras CEO Jose Sergio Gabrielli took a pragmatic approach, saying the industry can't become too creative or cede too much control to inexperienced employees as established procedures and policies have to be followed to ensure safety in this dangerous line of work. Although he too acknowledged the need for change.
"The way we produce has to be different than in the past," he said. "The social environment won't let us do things the way we used to do them."
The young people on the panel, being in the oil industry themselves, generally agreed that the industry is moving in the right direction.
"Most companies are really taking a step forward, looking beyond 2020," said Mark Blackwell, a power and utilities analyst at the Canadian investment bank CIBC.
Blackwell pointed to French oil firm Total's (TOT) recent acquisition of American solar power giant Sunpower (SPWR) and to Chevron's (CVX, Fortune 500) fund that invests in clean energy projects as examples.
"There's a giant amount of capital being invested by oil and gas companies to diversify their portfolios," he said.