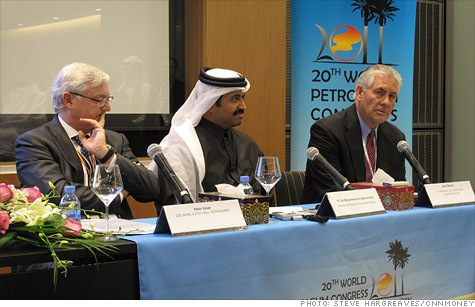 Oil industry executives appearing Tuesday at the World Petroleum Congress in Doha, Qatar.
DOHA, Qatar (CNNMoney) -- Just three years after fears of an energy supply shortage, executives of the world's leading oil companies now foresee a bonanza of oil and natural gas on the horizon.
In 2008, concern that a rapidly developing world was eating through all its energy supplies helped push prices to record levels, with oil hitting $147 a barrel and natural gas topping $15 per million cubic feet.
Now, those concerns have abated, reflected in $100 oil and $3-$4 natural gas. That's partly due to the global recession, but largely thanks to new technology that's unlocked vast new supplies of oil and, especially, natural gas. (Read: Gasoline: The new big U.S. export.)
"The world holds centuries of natural gas supply, enough for generations," said James Mulva, chief executive of ConocoPhillips (COP, Fortune 500), at the World Petroleum Congress on Tuesday. "We don't need any new miracles, the miracles have already occurred."
Those "miracles" include the relatively new ability to liquefy natural gas so it can be sent around the world on massive ships. Previously, natural gas had to be transported by pipeline, which made it hard to get it from places where it's abundant, such as here in Qatar, to consuming markets in Asia and elsewhere.
The miracles also include the ability to tap oil and natural gas from shale rock, which is done using a combination of new horizontal drilling technology and a process called hydraulic fracturing. Known as fracking for short, it involves injecting vast amounts of water, sand and some chemicals deep into the earth to crack the shale rock and allow the gas or oil to flow out.
The technology has indeed freed huge amounts of gas -- which is why natural gas prices in the United States, where the process was pioneered and is now fairly widespread, are about a fifth of what they were in 2008.
But fracking has also raised concerns about ground water contamination and earthquakes, and has been banned in several spots around the world.
Little mention was made of the fracking controversy at this oil conference. But Royal Dutch Shell (RDSA) Chief Executive Peter Voser said it's better that the big companies have gotten in on the shale gas boom -- suggesting they have the money and technical ability to make sure it is done right.
"Companies like Shell and Exxon coming into shale gas operations in a big way will drive the standards higher," said Voser, who also said that Shell has recently begun tapping shale gas in China. "This is where the bigger players can drive the sustainability of these reserves."
The bonanza doesn't come cheap. While natural gas prices have moved considerably lower and oil prices are down by about a quarter since the heady days of 2008, it's unclear how they will react when the global economy picks up.
As Exxon Mobil (XOM, Fortune 500) Chief Executive Rex Tillerson noted, demand for energy is expected to jump some 30% over the next two decades as the global economy doubles in size. Most of that energy will continue to come from fossil fuels, forecasting agencies predict, and they expect tighter supplies and higher prices.
These new energy sources are more expensive than traditional wells, whether it's tapping shale rock, liquefying natural gas or exploring for oil in ultra deep water. And it will require a massive investment to bring this new energy to market.
Tillerson said his company spends $34 billion a year investing in new energy projects. Worldwide, he said the industry spends $1.5 trillion per year on new infrastructure. That's nearly half the spending of the entire U.S. government in 2011.
Tillerson said the spending is worth it and that rising energy demand, especially in the developing world, is not a bad thing. Energy allows water to be purified, farms to be fertilized, and hospitals and schools to operate.
"There is a moral imperative behind humanity's need for energy," he said. "The delivery of energy will provide a bridge to a better future."
Few would disagree -- although many are hoping that energy will come someday in a cleaner form than fossil fuel.