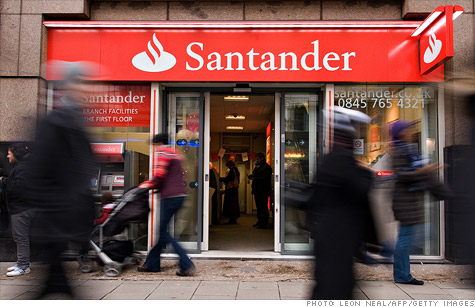 Spain's Banco Santander is among 31 banks facing big capital shortfalls, say European banking regulators.
NEW YORK (CNNMoney) -- Banking regulators said Thursday that European banks need to raise nearly €115 billion by June as pressure mounts for political leaders to come up with a workable plan to resolve the debt crisis.
Among the 31 banks on the European Banking Authority's list, six are from Germany -- Europe's largest economy. But Spain's Banco Santander (STD) faces the biggest shortfall of €15.3 billion.
Spanish banks came under scrutiny in July, when the EBA carried out stress tests of 90 institutions. Of the eight that failed, five were in Spain. At that time, the EBA said the banks needed €2.5 billion to survive.
While the latest EBA report was not the result of stress tests per se, it is still a big reality check for banks across Europe.
Aside from Greece, Spain faces the biggest overall shortfall, of €26.2 billion, followed by Italy (€15.4 billion) and Germany (€13.1 billion).
And Belgian bank Dexia, which received a €90 billion bailout in October, needs to raise €6.3 billion.
Banks have been at the epicenter of the crisis as sovereign debt problems deepen and spread.
"It's really no surprise," said Keith Springer, president of Springer Financial Advisors. "We know they're undercapitalized." He also estimates the capital requirements may be closer to the trillion mark.
Banks must submit their plans, which could include retaining profits and cutting bonuses, to the EBA by Jan. 20.
It's been a tough two years for Europe as the crisis took hold and spread like the plague.
In the past month alone, three countries have gotten new leaders, including Italy, where borrowing costs skyrocketed. Meanwhile, leaders continued to do a lot of talk with very little action.
There's a lot riding on the European Union two-day summit, which concludes Friday. On Monday, French President Nicolas Sarkozy and German Chancellor Angela Merkel said they had agreed to a fiscal pact that would help avert another crisis.
But the pact would most likely require treaty changes for at least the 17 eurozone nations, though Merkel said she'd like all 27 EU members to consider changes as well.
"It all comes down to Germany," said Springer.
The pressure is on. Earlier this week, Standard & Poor's put 15 of the 17 eurozone nations on notice that they may face a possible downgrade.
The ratings agency also warned the European Financial Stability Facility, which is partially backed by those countries, that it could also be downgraded, as well as the European Union as a whole.
S&P also warned several large eurozone banks, including some on the EBA list, that they could be downgraded.
French bank BNP Paribas, along with Germany's Deutsche Bank and Commerzbank made both lists.
In all, the EBA reviewed 71 banks in 20 countries.