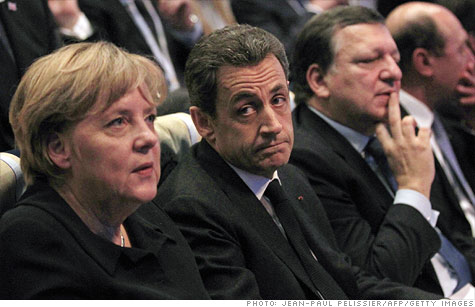 French President Nicolas Sarkozy and German Chancellor Angela Merkel are among the top European Union leaders taking part in a crucial summit Thursday and Friday.
NEW YORK (CNNMoney) -- Under pressure to deliver a decisive solution to the debt crisis, European leaders sat down Thursday evening in Brussels to begin rethinking the basic structure of the European Union.
The informal dinner kicks off the latest in a string of high-profile summits this year as EU leaders struggle to convince investors that the euro currency will not be brought down by government debts and weak banks.
The talks will resume first thing Friday morning and the leaders are expected to announce conclusions sometime after lunch, though past summits have run late into the night.
"All the world is watching us," said Jose Barroso, president of the European Commission. "And what the world awaits from us is not more national problems but European solutions."
Time and again, the political establishment in Europe has tried and failed to come up with a workable solution to the crisis that has raged for more than 18 months.
After bailing out Greece, Ireland and Portugal failed to calm markets, European leaders proposed building a financial "firewall" to prevent Italy and Spain from being engulfed. But the firewall is widely seen as insufficient to protect larger members of the eurozone, and plans to bolster its resources have stalled.
On Thursday, U.S. president Barack Obama said he's "very concerned" about America's largest trading partner. But he sounded optimistic about Europe's ability to find a fix on its own.
"We're going to do everything we can to push them in a good direction on this," said Obama.
The latest summit is being billed as a pivotal moment in the history of the European project, which dates back to the post war period.
Investors, for their part, seem to be hoping for the best, but bracing for the worst.
"All eyes are now on politicians and with markets still hoping for a miracle," said Natascha Gewaltig, head of European economics at Action Economics.
Over the past few days, EU leaders have pledged to begin forming a so-called fiscal union by amending or rewriting EU treaties to ensure that budget rules are respected and enforced.
The goal is to correct what economists call "birth defects" in the basic structure of the union, which binds together 17 nations with very different economic and political policies.
France and Germany, the euro area's largest economies, have called for a fiscal pact that includes automatic sanctions on governments that fail to meet deficit targets.
Meanwhile, European Council president Herman Van Roumpuy has proposed writing new laws to enforce existing budget rules without altering EU treaties.
It remains unclear whether the 10 members of the EU that do not use the euro currency will accept the loss of national sovereignty that these proposals would entail.
Still, the talk of a fiscal union boosted global financial markets last week.
But stocks in Europe and the United States fell sharply Thursday after the European Central Bank dashed hopes that it would make large-scale purchases of government bonds.
Many investors had pinned their hopes on the ECB, widely seen as the only European institution with the financial firepower to restore market confidence.
"Given reduced chances now that the ECB will step in to support bond markets in any significant way...it is difficult to see how tomorrow's deal will resolve the crisis," Chris Scicluna and Emily Nicol, analysts at Daiwa Capital Markets, wrote in a report.
Investors have also scaled back expectations that EU leaders will unleash a financial "bazooka" on the markets.
Germany has signaled its opposition to doubling up on bailout funds by running the €440 billion European Financial Stability Facility along side its permanent replacement, the €500 billion European Stability Mechanism.
In addition, there were mixed signals Thursday on plans to increase the resources of the International Monetary Fund by allowing the ECB or individual euro area central banks to provide "bilateral loans" to troubled governments.
IMF managing director Christine Lagarde said the fund is ready to "play its part." But ECB president Mario Draghi said lending the IMF money to buy euro area government bonds would violate EU treaties.