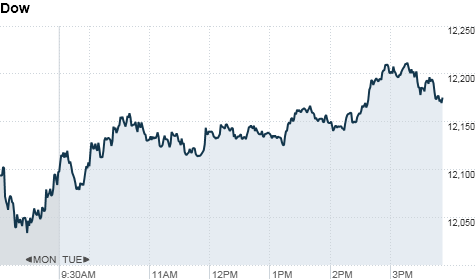 Click the chart for more data.
NEW YORK (CNNMoney) -- U.S. stocks ended mostly higher Tuesday as investors remain optimistic that a lasting solution to the eurozone debt crisis will be announced this week.
The Dow Jones industrial average (INDU) rose 52 points, or 0.4%, to close at 12,150. The S&P 500 (SPX) rose 1 point, or 0.1%, to end at 1,258. But the Nasdaq (COMP) fell 6 points, or 0.2%, to 2,649.
The Dow's gains accelerated after Financial Times said European officials are working on a last-minute proposal to combine the resources of an existing bailout fund with one that is planned for next year to create the financial "bazooka" that investors have been calling for.
According to the FT, officials are considering allowing the €440 billion European Financial Stability Facility to continue running alongside the €500 billion European Stability Mechanism, which comes on line next year. In addition, the funds could be further supplemented by contributions from eurozone nations to the IMF, the report said.
The report boosted hopes that European Union leaders will announce both short-term and long-term solutions to the eurozone debt crisis at a summit later this week.
"It's clear that policy makers understand that the markets are not going to wait for the normal schedule," said Quincy Krosby, market strategist at Prudential Financial. "There's a sense that they're moving in the right direction."
The leaders of France and Germany agreed Monday on a new pact that they say will help enforce fiscal discipline and prevent a future debt crisis.
Meanwhile, the European Central Bank is widely expected to cut interest rates at its policy meeting Thursday.
Earlier, investors had been focused on a warning from Standard & Poor's late Monday on European debt. The credit rating agency said it placed 15 eurozone nations, including Germany and France, on review for a possible downgrade.
Some investors said the warning provides extra incentive for EU policy makers to announce a forceful solution this week. But others added that a downgrade of one of the larger eurozone nations could lead to a renewed bout of market chaos.
Ryan Larson, a senior equity trader at RBC Global Asset Management, said investors will continue to trade headlines out of Europe ahead of meetings on Thursday and Friday.
"The headlines are beginning to become more constructive in terms of EU leaders getting their act together to solve the crisis," he said. "If this actually comes to fruition, it could be something very good."
World markets: European stocks ended mostly lower. Britain's FTSE 100 (UKX) was flat, the DAX (DAX) in Germany lost 1.3% and France's CAC 40 (CAC40) shed 0.7%.
On Tuesday, the European statistics agency, Eurostat, estimated that eurozone economy grew 0.2% in the third quarter.
Asian markets ended lower. The Shanghai Composite (SHCOMP) slipped 0.3%, the Hang Seng (HSI) in Hong Kong lost 1.2% and Japan's Nikkei (N225) dropped 1.4%.
The Reserve Bank of Australia lowered its benchmark interest rate to 4.25% from 4.5%, citing a worsening outlook for the global economy.
Companies: Shares of Darden Restaurants (DRI, Fortune 500) plunged 12% after the company, which operates Red Lobster, Olive Garden and Longhorn Steakhouse chains, issued a dour outlook for the quarter and fiscal year.
Shares of Taiwanese phone maker HTC were sharply lower ahead of a ruling on a key Apple patent suit. On Tuesday, a six-member panel at the International Trade Commission in Washington will rule on whether HTC's phones have violated two Apple (AAPL, Fortune 500) patents.
Halliburton (HAL, Fortune 500) sank 4% after BP filed a lawsuit Monday alleging that Halliburton "intentionally destroyed evidence" related to the explosion aboard an oil rig in the Gulf of Mexico that led to the worst oil spill in U.S. history.
Metro PCS (PCS) shares jumped 7% after the company's chief executive reportedly said there has been a "very significant" reduction in the number of customers leaving the pay-as-you-go wireless carrier.
Currencies and commodities: The dollar gained strength against the euro, but fell versus the euro and the Japanese yen.
Oil for January delivery rose 21 cents to $101.20 a barrel.
Gold futures for February delivery fell $2.70 to $1,731.80 an ounce.
Bonds: The price on the benchmark 10-year U.S. Treasury eased slightly, with the yield holding edging up to 2.08%.