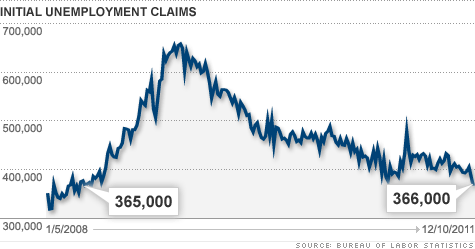 Initial claims for unemployment benefits fell to 366,000 last week, the lowest level since May 2008.
NEW YORK (CNNMoney) -- Fewer Americans filed for their first week of unemployment benefits last week. So few in fact, that initial jobless claims were at their lowest level since May 2008.
About 366,000 people filed initial jobless claims in the week ended Dec. 10, the Labor Department said Thursday. That was a decrease of 19,000 from the prior week, and far better than the bigger influx of claims that economists were expecting.
Last week marked the lowest level of initial unemployment claims since May 31, 2008, a welcome sign that hiring may have picked up further in December. Economists often look for the weekly tally to stay below 400,000 to signal that job growth is strong enough to lower the unemployment rate, which is currently at 8.6%.
Amid the worst of the recession, unemployment offices around the country were at one point processing as many as 659,000 initial claims per week. The influx of applications has slowed since then, and after flatlining this summer, it seems to be improving further.
"There has been some decline in uncertainty, some reduction of immediate recessionary fears in the U.S., and coupled with better data, this suggests firms are a little more willing to hire," said Michael Gapen, senior U.S. economist at Barclays Capital.
That said, the United States job market is still far from robust. About 8.8. million jobs were lost in the financial crisis, and as of November, still less than a third of those have been added back. Plus, the population has also grown during that time.
Still, 3.6 million people filled for their second week of unemployment benefits or more, in the week ended Dec. 3, the most recent data available.
What's more, Congress has still yet to decide on whether to again extend the deadline to file for unemployment benefits. If they don't, up to 5 million people will stop getting checks next year, according to the Labor Department.
The unemployed can currently get up to 73 weeks of federal benefits once checks from their states, which last up to 26 weeks, run out.