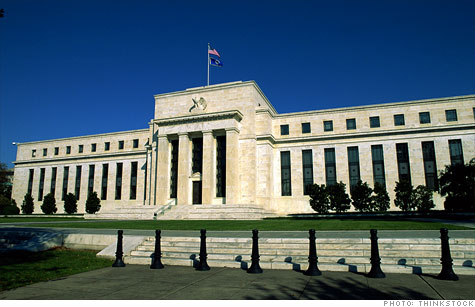 The Federal Reserve is expected to release this week new details on the kinds of financial buffers bank should have.
WASHINGTON (CNNMoney) -- The Federal Reserve on Tuesday released a set of proposed rules governing how much reserve capital big banks will need to keep on hand in the future.
Wall Street has been watching the rulemaking closely. Requirements about capital cushions can directly impact banks' ability to lend, make financial bets and profit off those loans or bets.
Tougher capital cushions are also a key step toward making banks safer and avoiding future taxpayer bailouts.
The Fed released proposed rules for some 31 banks with more than $50 billion in assets. The Fed's draft rule would impact mega-banks like JP Morgan Chase (JPM, Fortune 500), Bank of America (BAC, Fortune 500) and Citibank (C, Fortune 500), among others.
The new rules build on stress tests announced last month that require the largest banks to show how they would hold up under conditions like the stock market crash in 2008 and major declines in global economic activity, including an unemployment rate of 13%.
Also, the largest banks will be required to maintain a buffer of at least 5% of assets in safe, dependable capital reserves.
Later, there will be a second phase, in which the Fed would ensure that banks maintain a certain amount of reserves as liquid assets. But the direction of those rules remains unclear, as the Fed plans to wait for the global regulatory committee called the Basel Committee on Banking Supervision to consider the issue first.
Over the past two decades, banks drastically increased the money they use for making loans and financial bets compared to the deposits they took in. Such leveraging is often cited as one of the causes of the 2008 financial crisis.
With larger capital cushions, banks might have been better able to weather the crisis. In the Dodd-Frank financial reform law, Congress decided that banks should maintain bigger capital cushions but left it to regulators to decide their size.
In the meantime, the international Basel Committee released its own set of rules, requiring that by 2019 banks hold total 10.5% of their assets in reserve, up from 8%.
In the years leading up to the financial crisis, some Wall Street firms had capital cushions as low as 3% of assets.
The Fed's rules don't appear tougher than those set by the Basel committee.
Public comments on the Fed's proposed rules are due by March 31, and the earliest they could go into effect would be later in 2012. Banks would get a year to comply with any final rules, meaning U.S. banks would likely have until at least 2013 to meet new capital buffers, according to Fed officials.
New York University economics professor Lawrence J. White said he is worried the Fed's rules won't be tough enough to safeguard the U.S. financial system from future crises. Banks should be required to keep 10% of risk-weighted assets as capital as soon as possible, he said.
"Capital is the buffer that protects banks against losses," said White, who acknowledged the Fed faces a lot of pressure from the banks. "Something north of 10% would be much better and much safer."
Banks have been lobbying regulators on the issue, because keeping money home as capital doesn't earn them much money. They argue that tough capital requirements hurt the economic recovery by hampering lending.
Banking groups and financial analysts initially said that the standards don't appear to be much tougher than impending international standards or the previously announced stress tests for the big banks.
"It is a thoughtful proposal," said Scott Talbott, senior vice president for government affairs for the Financial Services Roundtable. "This proposal nicely provides for temporary standards until the U.S. works through Basel ... and it considers the need for both transition and integration with recently implemented rules."