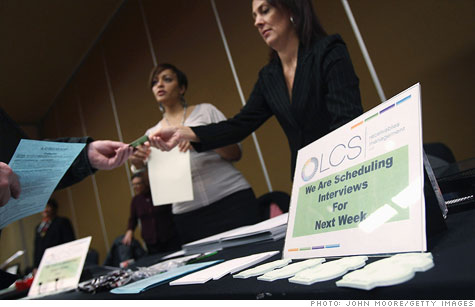 The deadline to file for federal unemployment benefits is at year's end unless Congress passes an extension.
NEW YORK (CNNMoney) -- The long-term unemployed are running out of time.
In 11 days, a provision will expire that could cause jobless Americans to lose a critical lifeline next year. The White House estimates that by Jan. 14, some 697,000 unemployed Americans could lose benefits. By March 3, the number of Americans poised to lose benefits will top 2.6 million.
"This is critical to millions of working families and critical to our economy and job growth as well," said White House director of the National Economic Council Gene Sperling on Wednesday.
At issue is the extension of emergency federal unemployment benefits, which allow the jobless to collect benefits for up to 99 weeks. Also at stake are the extension of a payroll tax cut, and the "doc fix," which would prevent a scheduled pay cut to Medicare physicians.
On Tuesday, House Republicans rejected the two-month extension passed by the Senate, by refusing to bring the measure to the floor for a vote. Instead, they want to negotiate for a full one-year extension of all three measures, which are set to expire on Dec. 31.
Problem is, the Senate has already gone home for the holidays. And Senate Majority Leader Harry Reid has said there will be no more negotiating. It's not looking good.
Here's what's at stake:
What are federal unemployment benefits? During major economic downturns, Congress authorizes federal unemployment benefits to augment state jobless benefits, which last up to 26 weeks.
Lawmakers first approved federal unemployment benefits in June 2008. Since then, Congress has lengthened the federal program and extended the deadline to file until the end of 2011.
Federal benefits consist of up to 53 weeks of emergency compensation, divided into four tiers, and up to another 20 weeks of extended benefits.
Here's how it works: When a person becomes unemployed, they file for state unemployment benefits. Once the state benefits are exhausted, the federal benefits kick in.
How long they can receive benefits depends on the unemployment rate in their state and on their work history -- the maximum is 99 weeks.
But unless Congress acts, those who reach the end of their state benefits or federal tier will not be able to apply for additional benefits.
Some 17.6 million Americans have collected federal benefits over the past four years. The most recent extension, passed last December, kept 7 million people on the rolls.
What does Congress have to do to extend them? Lawmakers must vote to approve extending the deadline. They have lengthened or extended them eight times since they were first authorized.
When Congress passed a 13-month extension last December, it was thought by many to be the last. But since the economy hasn't recovered as much as hoped and unemployment remains high, advocates say the lifeline must continue.
How much will it cost? The Congressional Budget Office estimates that it will cost $44 billion to extend federal benefits through 2012.
Jobless Americans have collected $434 billion in unemployment benefits over the past four years. Taxpayers have footed about $185 billion of the bill.
The last extension cost about $57 billion, but there were more people collecting unemployment benefits at that time. The rolls have been shrinking slowly as the economy picks up and as people exhaust their benefits or stop looking for work.
What's the hold up? Both Republicans and Democrats generally agree that unemployment benefits should be extended. They haven't been able to agree, however, on how it should be paid for.
Republicans have insisted the cost be covered through steps such as spending reductions. Last week, House Republicans passed a one-year extension which included "pay for" provisions to offset the cost opposed by Democrats, including cuts in the cost of the federal workforce and more stringent requirements to get unemployment benefits.

The Senate's two-month extension would have been paid for in large part by requiring that Fannie Mae and Freddie Mac charge mortgage lenders higher fees, a measure with bipartisan support. But Republicans objected to the short-term extension and are insisting on negotiating a full one-year plan.
What happens if they don't get extended? Some 5 million people will stop getting checks next year, with nearly 2 million of them exhausting their benefits in January alone.
The jobless depend on these checks -- which average about $296 a week -- to feed their families and keep a roof over their heads, advocates say. Without extended benefits, the typical household receiving unemployment checks will see their income fall by a third, according to a report last year from President Obama's Council of Economic Advisers.
Jobless benefits also pump billions into the economy since recipients tend to spend their checks quickly. Each dollar of unemployment insurance collected pumps about $2 into the economy, according to some estimates.
Even if Congress does quickly reach an agreement after the New Year, it will take time to get the program up and running again. A lapse could cause some recipients to be without benefits until late February, according to a report issued Wednesday by the National Employment Law Project.
"To rob the unemployed and their families of their essential lifeline just as the New Year begins, when a clear alternate path is available, is beyond callous -- it is unconscionable," Christine Owens, executive director of NELP, wrote in the report.
-- CNNMoney Senior Writer Jennifer Liberto contributed to this report.