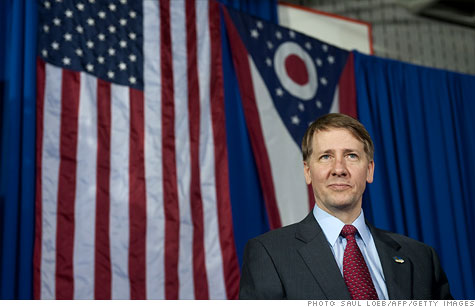 Richard Cordray, the new director of the Consumer Financial Protection Bureau, says his recess appointment by President Obama is valid.
WASHINGTON (CNNMoney) -- A day after taking over the job as the first director of the Consumer Financial Protection Bureau, Richard Cordray defended his role and says he'll work to win Congress over.
"The appointment is valid, I'm now the director of the bureau," said Cordray, a former Ohio attorney general. "The important thing for us is that we now have the ability to protect consumers across the country on both bank and nonbank issues."
As for those who say his recess appointment is illegal, Cordray said he'd "leave those details to others," during a forum at the Brookings Institution.
President Obama on Wednesday gave Cordray the job of running the Consumer Financial Protection Bureau through a recess appointment. However, Republicans and some big business groups argue Congress isn't in recess.
White House Counsel Kathy Ruemmler said the administration believes otherwise, despite the Senate's "pro forma" sessions every three days, and said the appointment was necessary to fulfill the president's obligation to keep government functioning.
The consumer bureau is an independent agency created as part of the Wall Street reforms of 2010 tasked with regulating financial products such as mortgages and credit cards. As its new chief, Cordray says he plans to move forward and not worry about potential lawsuits that may challenge his agency's powers.
That's easy to say now, because the bureau hasn't done much yet to irritate Big Business. Cordray acknowledged the bureau has yet to release a single new rule, enforcement action or examination report.
"But we have lots of work in the pipeline," he added.
In the meantime, Republicans are already preparing for a showdown. Cordray has already been asked to testify at a House Oversight subcommittee panel meeting later this month. He has until Friday to agree to appear.
Cordray was asked several times at the Brookings forum about how he planned to smooth things over with Congress, where Republicans are questioning the legitimacy of his job and the agency's new powers. He said he plans to work as hard as he can to "improve things" for consumers, which will help "win our way forward."
"The most important thing we can do at the bureau is keep our nose to the grindstone and keep doing our work," Cordray said. "We will prove our own case, both to people who represent the public and the public at large."
In the meantime, the bureau announced Thursday that it launched a new supervisory program over nonbanks, aimed at reviewing and regulating student loan providers, debt collectors, payday lenders, and mortgage originators and servicers.
"This is an important step forward for protecting consumers," Cordray said. "Holding both banks and nonbanks accountable to consumer financial laws will help create a fairer, more transparent market for consumers."
--CNN's Jessica Yellin contributed to this report.