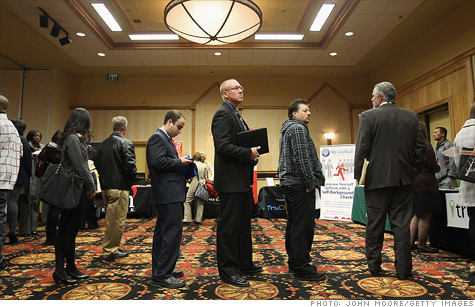 Job applicants wait in line at the 'Denver Hires Job Fair' last month.
NEW YORK (CNNMoney) -- Private-sector companies significantly ramped up their hiring in December, according to a report issued Thursday.
The private sector added a seasonally adjusted 325,000 jobs during the month, up from 204,000 in November, payroll-processing firm ADP said.
It marked the biggest monthly gain since December 2010, and was stronger than expected. Economists surveyed by Briefing.com were forecasting a gain of 180,000 jobs for the month.
"It's not a bad way to wrap up the year," said Paul Ballew, chief economist for Nationwide. "And it's certainly better than we had feared back in the summer."
Small businesses -- those with fewer than 50 employees -- made up nearly half the gains, hiring 148,000 people in December. Large companies with 500 or more employees hired 37,000 new workers, and medium-sized businesses added 140,000 to their payrolls.
A separate report, also out Thursday, showed planned job cuts fell in December to their lowest level since June.
ADP's data came just a day ahead of the government's closely watched jobs report, but the two reports don't always match up. Some economists take the ADP report with a grain of salt, because its seasonal adjustments tend to be way off at the end of the year. In December 2010, ADP's numbers for private payroll growth were 130,000 higher than the government's official numbers.
Economists surveyed by CNNMoney expect the Labor Department's data to show private-sector businesses added 170,000 jobs in December, while the government cut 20,000 jobs, for a net gain of 150,000.
They're also forecasting the unemployment rate ticked up to 8.7% from 8.6% in November, mainly due to discouraged workers -- who had previously given up their job searches -- re-entering the labor force.