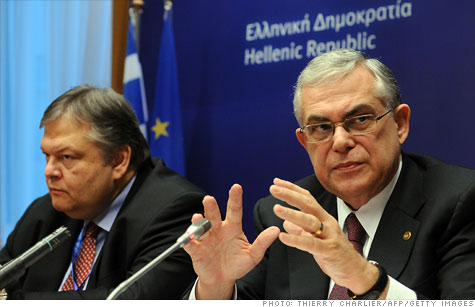 Greek Prime Minister Lucas Papademos and Finance Minister Evangelos Venizelos need to finalize a deal with the private sector on a write down of Greek government bonds.
NEW YORK (CNNMoney) -- Talks over a deal to write down Greek government bonds have been put on "pause," according to the industry group representing private sector investors and banks.
The Institute of International Finance said Friday's negotiations in Athens have "not produced a constructive consolidated response by all parties" and the discussions were being put on hold.
Greek Finance Minister Evangelos Venizelos said late Saturday that talks would resume later this week. IIF officials confirmed that was the plan, "depending on developments in the next few days."
IIF officials have been in talks with Prime Minister Lucas Papademos' government about the merits of a plan to voluntarily reduce the value of Greek bonds by 50% as part of a deal announced in October.
The deal would amount to €100 billion and would help reduce the nation's debt load to 120% of economic output by 2020.
Friday's delay could increase the likelihood that Greece will default on its debts, a development that eurozone officials have said would result in the nation exiting the euro currency union.
One of the main sticking points in the negotiations appears to be the stipulation that bondholders accept the write downs voluntarily.
Under the terms of the deal, banks and investors would exchange existing bonds for assets with longer maturities and lower interest rates, resulting in significant losses.
The problem is that a non-voluntary deal could trigger credit default swaps, a form of insurance on Greek government debt, which many officials and investors say could spread chaos in the financial system.
In addition, the Greek government has reportedly been calling for even steeper write downs, angering some bondholders involved in the talks.
The private sector's roll in restructuring Greece's debt is also a key condition of the planned second bailout package for Greece from the European Union and the International Monetary Fund.
"We look forward to the resumption of talks between Greece and its creditors," said an IMF spokeswoman. "It is important that this lead to a PSI [private sector involvement] agreement that, together with the efforts of the official sector, ensures debt sustainability."
On Monday, representatives from the IMF, EU and European Central Banks -- known as the troika -- will meet with Greek officials to review the nation's finances.