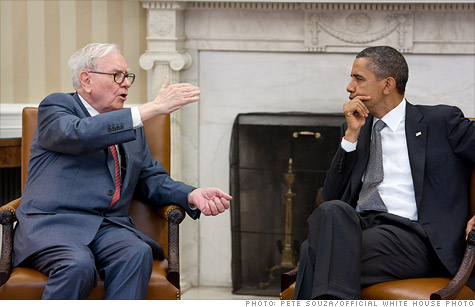 President Obama last year took up Warren Buffett's push for tax reform; on Tuesday, he'll turn to Buffett's secretary as stagecraft.
NEW YORK (CNNMoney) -- President Obama will renew his call for higher taxes on the rich on Tuesday, and he has invited Warren Buffett's secretary to Washington to make his point.
Debbie Bosanek, longtime secretary to the Oracle of Omaha, will take in the State of the Union as a guest of the White House.
White House Communications Director Dan Pfeiffer confirmed Bosanek will join the first lady in her box in a post on Twitter.
Why Buffett's secretary?
In some ways, she is the inspiration for Obama's Buffett Rule, a proposed guideline to ensure that the wealthiest do not pay a lower overall tax rate than those who earn substantially less money.
"[Last year] what I paid was only 17.4% of my taxable income -- and that's actually a lower percentage than what was paid by any of the other 20 people in our office," Buffett wrote in a New York Times op-ed last year.
Why? For most people, wages make up a majority of their income, so when they get a raise their average tax rate may go up.
But millionaires -- and in Buffett's case, billionaires -- typically have several sources of income, some of which are taxed at lower rates.
As a result, Buffett says he enjoys a lower tax rate than his secretary. Correcting that discrepancy is the aim of the Buffett Rule.
According to a study from the Congressional Research Service, a quarter of millionaires don't pay enough in federal taxes to satisfy the rule.
The CRS found that 94,500 millionaires pay an effective federal tax rate that is less than that paid by 10.4 million moderate-income taxpayers.
That is, 25% of those with adjusted gross incomes over $1 million pay a smaller portion of their income in federal taxes -- income, payroll and corporate -- than 10% of those with AGIs below $100,000.
It's a message the White House has fully adopted.
"Middle-class families shouldn't pay higher taxes than millionaires and billionaires. That's pretty straightforward," Obama said in September.
For Bosanek, attending the State of the Union address will only amplify the spotlight that comes with having your effective tax rate a topic of national discussion.
Already, the Wall Street Journal's conservative editorial board has called for the Berkshire (BRKA, Fortune 500) chairman to release key parts of Bosanek's tax return.
"We wouldn't want to violate their individual privacy, but since Mr. Buffett is using [his employees] to make a political point, perhaps he'd be willing to disclose the most important lines on their returns without disclosing their names," the Journal said in September.