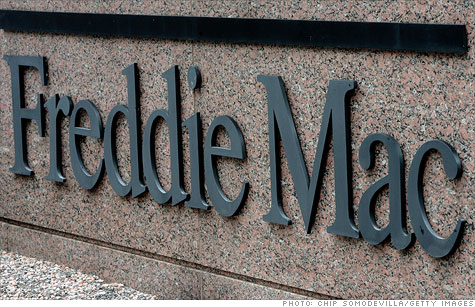 NEW YORK (CNNMoney) -- Freddie Mac is in the spotlight of the Republican presidential contest, as Mitt Romney attacks Newt Gingrich for his 2006 work for the mortgage finance firm.
But what the firm did, and the role it and larger rival Fannie Mae played in the housing crisis of the last decade, remain a source of confusion for many Americans.
What do Freddie Mac and Fannie Mae do? The two of them support the housing industry by providing billions in financing to the mortgage market.
They buy mortgage loans from lenders that conformed to their guidelines, typically safer loans with a large down payment, good credit scores for the borrowers and verification of their income.
Because there is an implicit guarantee that the federal government stands behind both firms, which were set up by Congress, they borrow money at the lowest possible rates and get a good return on their investment.
Did the two firms create the housing bubble that caused the financial meltdown? Not really.
The two firms were major players in the mortgage market, and so the rising home values were at least partly funded by their flow of money.
But the bubble really inflated when Wall Street started buying riskier loans made to borrowers who didn't qualify for a Fannie or Freddie conforming loan. Those loans carried higher interest rates, with relatively little risk for investors while home prices were going up.
Experts say it was the growth of those riskier loans that caused home prices to rise and the bubble to inflate.
"When you bring in 5 million marginal buyers who under normal circumstances would not qualify for a mortgage, that's what ends up driving home prices," said Barry Ritholtz, CEO of Fusion IQ.
He said the big Wall Street firms that became major players in the mortgage market, such as Citibank (C, Fortune 500), Bank of America (BAC, Fortune 500), Goldman Sachs (GS, Fortune 500), Morgan Stanley (MS, Fortune 500) and AIG (AIG, Fortune 500), are as or more guilty than Freddie and Fannie.
"If Freddie and Fannie never existed, we would have had the same problem," he said.
What caused problems for Fannie and Freddie? By the middle of the last decade, Freddie and Fannie had lost their dominant position in the home loan market, as the riskier loans became a larger share of the mortgage market.
So they adjusted their underwriting standards in order to participate in the riskier lending as well.
Even though the riskier loans were a minority of the loans each purchased, because each was so huge, they ended up with a large volume of those loans.
They also were relatively late to the game. That meant they got into riskier loans right before the decline in home prices -- which began in 2006 -- led to a spike in foreclosures. After that, home buyers started to default on loans that were safer, adding to Freddie and Fannie's losses.
"What killed Fannie and Freddie is the housing market went to hell and they were 100% exposed to housing," said Jaret Seiberg, analyst with Guggenheim Washington Research Group.
How much money did the collapse cost taxpayers? So far Freddie has received $72.2 billion from Treasury, while Fannie, which is larger, received $111.6 billion. The combined $183.8 billion makes it the most expensive bailout by taxpayers of the financial crisis. But part of that bailout has been repaid to taxpayers in the form of dividends. Freddie has repaid $14.9 billion, while Fannie paid $17.2 billion.
Seiberg said that the bailout might have been avoided, or been relatively minor, if Fannie and Freddie had stayed away from the riskier loans.
"Best-case scenario would have been they were knocked down, but not knocked out," he said.
Why did Freddie and Fannie hire Washington insiders such as Newt Gingrich?Gingrich's contract with Freddie is short on specifics of the work he performed for $25,000 a month. But even if he did no lobbying, as he says, the contract came at a time when Freddie and Fannie were eager to buy as much Washington influence as possible.
For years, the two firms were among the most powerful companies in terms of Washington muscle, getting free reign from both Congress and their regulator, then known as the Office of Federal Housing Enterprise Oversight (OFHEO).
"Fannie and Freddie had Congress wrapped around their fingers," said Guy Cecala, CEO of Inside Mortgage Finance, which publishes trade publications following the mortgage market. "They were untouchable."
Because of the public-private nature of their charters, the firms wanted to make sure Congress and OFHEO allowed them to operate with few restrictions. But they also wanted to keep government's implicit backing in place so they could borrow money cheaply.
"They were very aggressive lobbying Congress and OFHEO to stay out of their way," said Ritholtz.