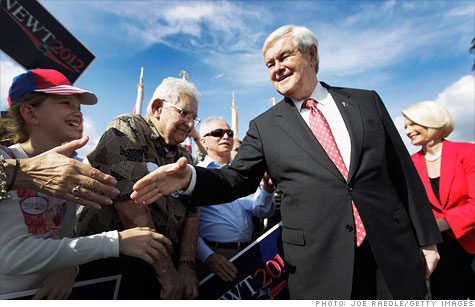 Newt Gingrich campaigns in Florida on Monday.
NEW YORK (CNNMoney) -- Newt Gingrich's consulting firm worked for Freddie Mac in 2006 and was paid $25,000 a month, according to a document released Monday.

The release came in response to accusations from the presidential candidate's critics charging that he lobbied on behalf of the government-backed mortgage finance firm, which many say is partly to blame for the housing crisis.

The document, made public by the Gingrich Group, the firm Gingrich founded in 2000, covers only 2006. The firm provided consulting services to Freddie Mac for roughly six years in total.
A person familiar with Gingrich's work for Freddie Mac told CNNMoney that the widely reported figure of $1.7 million that his firm is said to have earned from Freddie Mac is "generally accurate."

The contract "was solely for consulting purposes and not lobbying," Nancy Desmond, CEO of the Gingrich Group, said in a statement.

But the contract discusses the Gingrich Group's specific work only briefly, saying the firm was to provide "consulting and related services." It also notes that the Gingrich Group was required to inform Freddie if it submitted reports to the government under the Lobbying Disclosure Act.

A spokesman for Freddie Mac did not immediately return a request for comment.

Supporters of Gingrich's Republican rival Mitt Romney have been hammering Gingrich ahead of the Florida primary for his ties with Freddie, accusing him of cashing in on the housing bubble.

"While Florida families lost everything during the housing crisis, Newt Gingrich cashed in," the latest Romney commercial says.
The release is not likely to stop the attacks on Gingrich by the Romney camp. During the call with reporters Monday, Romney supporter and former Minnesota Gov. Tim Pawlenty called for Gingrich to release not only the contract but also copies of the advice, memos and other work product he provided to the firm, as well as a complete list of all his other clients.
Pawlenty said it was "splitting hairs" to say that the work Gingrich performed for Freddie was not lobbying.
Gingrich has consistently denied lobbying for Freddie Mac. He claims he told Freddie its business model was broken, and told Republican members of Congress not to approve the bailout of Fannie and Freddie.
Together, Freddie Mac and Fannie Mae have received $183.8 billion in taxpayer money so far, but have returned more than $30 billion in dividends to Treasury.
--CNN's Gloria Borger and CNNMoney's Chris Isidore contributed to this report.