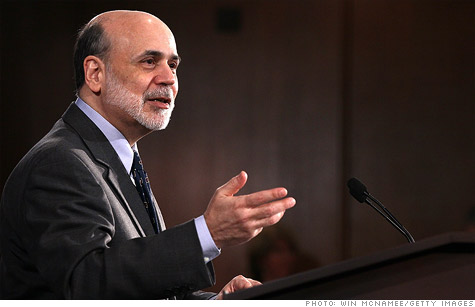 NEW YORK (CNNMoney) -- Ben Bernanke will step back into the classroom this semester to teach college students about the Federal Reserve.
The Fed Chairman will deliver four lectures at George Washington University in March on "The Federal Reserve and its Role in Today's Economy," the central bank announced Thursday. The lectures are part of a series on central banking that will also include other speakers.
While the class is geared toward undergraduate students in the university's business school, the Fed will post videos and transcripts for the public to view online.
Bernanke already has a long history in academia. Before he joined the Federal Reserve's Board of Governors in 2002, he taught economics at Princeton University.
Under his leadership, the once secretive Fed has tried to become more open with the public. Bernanke started giving four regular press conferences last year, and just yesterday, the Fed gave more insight into its planning tools than ever before.
For the first time ever, the Fed released forecasts for the federal funds rate, its key tool for stimulating the economy. The forecasts show the central bank plans to keep interest rates ultra low until late 2014.
That announcement came as the Fed acknowledged the U.S. economy has been improving, but said significant headwinds still remain before the job market is entirely back to normal.