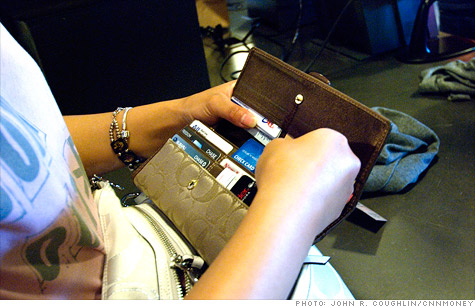 NEW YORK (CNNMoney) -- Consumers got a bigger boost to their paychecks at the end of last year, but they kept their wallets closed during the holiday shopping season, according to the government's latest readings.
Personal income rose 0.5% in the month, the Commerce Department reported Monday, slightly more than forecast by economists surveyed by Briefing.com. But spending by consumers was unchanged from November levels, which was weaker than the small rise forecast by economists.
The combination of stronger income and weak spending resulted in the savings rate jumping to 4% from 3.5% in November. That means that workers on average saved $4 for every $100 of after-tax income.
The weak holiday spending wasn't a surprise, given earlier government readings. Retail sales grew only 0.1% in December, according to a separate report.
"Real spending has clearly lost momentum," said Paul Dales, senior U.S. economist for Capital Economics.
He said the jump in spending in the fall was clearly unsustainable and that "now households are devoting part of their additional income to boosting their savings." That trend should limit overall economic growth in 2012, he said.
Still, Dales said he was encouraged by the better-than-expected gain in income, which was the biggest month-over-month increase reported since February.
"That's one of the reason that spending has been so weak is that income growth has been so weak," he said. "So that is encouraging."
Dales said the stronger income is another sign of the improving labor market, as hiring picked up a the end of last year, unemployment fell and the number of newly unemployed filing for jobless benefits has been lower.
"The improvement in job growth we've seen toward the end of last year is finally starting to filter into better household income," he said. "I just don't think households will go out and spend it all."
Are you a retiree living on a fixed income? How have low interest rates diminished your income? Email RealStories@cnnmoney.com with your name and phone number, and you could be featured in an upcoming story on CNNMoney.