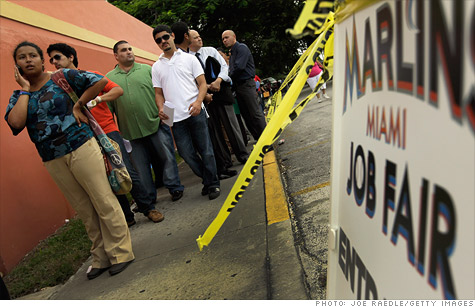 Jobs are scarce in Florida, which has the nation's highest rate of long-term unemployment.
NEW YORK (CNNMoney) -- If you lose your job in Florida, chances are you won't find another one any time soon.
The Sunshine State has the highest rate of long-term unemployment in the nation. Some 53% of jobless Floridians were out of work for more than six months in 2011, according to Brookings' Hamilton Project, which crunched Census data.
Many of those unemployed residents will cast their vote Tuesday in the state's Republican presidential primary.
Much of the blame for the malaise lies in the implosion of the housing market, economists say. Florida's building boom, which fueled all types of employment, came to screeching halt in 2007. The state's unemployment rate soared to one of the highest in the nation, peaking at 12% in December 2010.
"During the boom, the Florida economy was going gangbusters," said Sean Snaith, economics professor at the University of Central Florida. "We lost hundreds of thousands of jobs."
In the past year, the state's employment picture has brightened a little bit, in sync with the national trend. Some 130,000 jobs were created and the unemployment rate has slipped to 9.9%. Tourists are once again flocking to Florida's beaches and amusement parks, lifting the leisure and hospitality industry. Opportunities are also expanding in health care.
Governor Rick Scott, who highlighted the state's 1 million unemployed residents in speeches last year, has heavily lobbied businesses to relocate to Florida. He also has decreased regulation and lowered certain taxes.
"The best thing we can do to help the long-term unemployed in this state is to create jobs," said Lane Wright, the governor's spokesman.
Still, about 913,000 folks remain without jobs.
Cristina Garcia of Hollywood, Fla., is one of them.
The 59-year-old has been searching for work since being laid off from her accounting job in September 2009.
Last year, Garcia earned a medical business management certificate, betting that there would be more opportunities in the health care sector. She's also been volunteering at a local hospital, hoping to land a post there and interning at a medical management company.
Garcia had been living off of unemployment and income from a rental home, but her benefits recently expired and she lost the property to a short sale. She hopes to find a job soon.
"It's been tough," she said. "People are getting more confident and opening jobs, but not at the speed that people want them."
Although the market is starting to loosen up, there are four jobseekers for every open position in Florida, said Mason Jackson, chief executive of the WorkForce One career center in Fort Lauderdale. Businesses are still hesitant to hire because of continued uncertainty in the economy.
"If we filled every job we could find, 75% would still be unemployed," Jackson said.
The housing market continues to weigh on the Florida economy and its job market. More than one in five borrowers are behind in payments, while 44% of homeowners owe more than their property is worth.
This prevents homeowners from moving away to look for work, said Tony Villamil, dean of St. Thomas University's School of Business in Miami.
"They are locked in their homes," he said.
Compounding the problem is a mismatch of skills between jobless Floridians, many of whom worked in construction, and available positions, which are in other industries.
"People with skills for the housing industry can't get jobs in growing fields such as health care," said Snaith, who doesn't expect the state's unemployment rate to fall below 9% until late 2014.