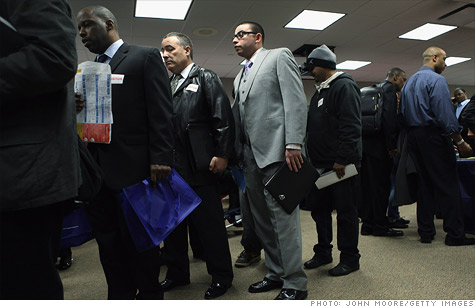 U.S. military veterans line up to meet potential employers during a veterans job fair in New York.
NEW YORK (CNNMoney) -- First-time claims for unemployment benefits fell last week, a sign of more gradual improvement in the job market.
The Labor Department reported Thursday that 367,000 people filed for initial unemployment benefits in the week ended Jan. 28, down 12,000 from a revised reading of 379,000 claims the week before.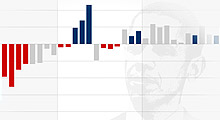 The U.S. lost 4.3 million jobs in President Obama's first 13 months in office. Track his progress since then.
Initial claims are a measure of applications for unemployment benefits, not all of which end up getting approved by the government.
Of those who have been approved in the past, about 3.4 million people filed for their second week of unemployment benefits or more in the week ended Jan. 21, the most recent data available.
Jobless claims are considered a key indicator of the job market's strength. The number can be volatile from week to week though, so economists often look at the four-week moving average to smooth out choppiness.
Lately, that figure has been on a gradual decline, and is back at levels seen in early 2008 -- before the worst of the jobs crisis struck.
"The trend remains friendly and supportive of further gains in hiring," Jennifer Lee, senior economist with BMO Capital Markets said in a note.
Economists still caution that the job market is improving at a slow pace.
The government's highly anticipated jobs report is due out Friday morning, and is expected to show the U.S. economy added 130,000 jobs in January, according to economists surveyed by CNNMoney.
That would mark a slowdown in hiring versus December, when 200,000 jobs were created. The unemployment rate is expected to rise to 8.6%.