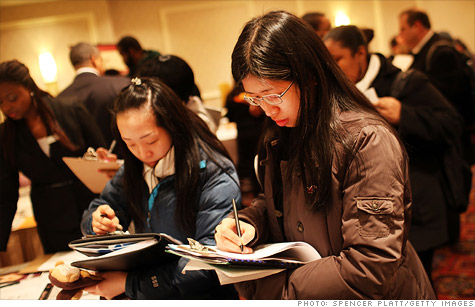 Job seekers attend a career fair in New York City.
NEW YORK (CNNMoney) -- First-time claims for unemployment benefits were unchanged -- at a relatively low level -- last week, in another sign of strength for the U.S. economy.
The Labor Department reported Thursday that 351,000 people filed for initial unemployment benefits in the week ended Feb. 18, unchanged from the previous week's revised 351,000 claims.
Economists surveyed by Briefing.com had predicted 355,000 new claims would be filed.
About 3.4 million people filed for their second week of unemployment benefits or more in the week ended Feb. 11, the most recent data available.
Jobless claims are considered a key indicator of the job market's strength. The number can be volatile from week to week, so economists often look at the four-week moving average to smooth out choppiness.
Lately, that figure has been on a gradual decline. Last week, it fell to 359,000, down from the previous week's average of 366,000.
Earlier this month, the Labor Department announced that the unemployment rate had dipped to 8.3% in January, as the national economy gained 243,000 jobs.