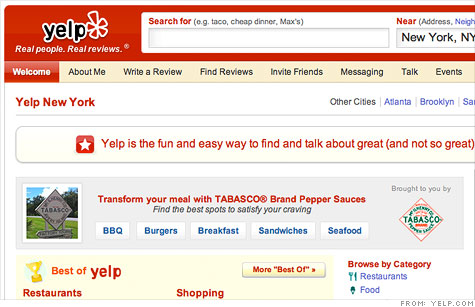 NEW YORK (CNNMoney) -- Reviews site Yelp priced its initial public offering at $15 a share late Thursday, above the target set by the company.
San Francisco-based Yelp said it was selling 7.1 million shares in the offering, so the company will raise about $106.5 million in the IPO.
Yelp said in its first IPO filing in November that it expected to raise $100 million. Last month, Yelp set a target range between $12 and $14 a share.
An additional 50,000 shares are being sold by the Yelp Foundation. Underwriters led by Goldman Sachs (GS, Fortune 500) have the option of purchasing an additional 1,072,500 shares from the company.
Founded in 2004, Yelp has developed an ubiquitous brand and amassed more than 18 million reviews of restaurants, salons, dentists and other businesses. Last quarter, about 66 million unique visitors went to Yelp's site on a monthly basis.
Yelp will start trading Friday on the New York Stock Exchange, under the ticker "YELP." Yelp's debut day comes almost exactly one month after Facebook filed for a $5 billion IPO.
Unprofitable: Like many other tech companies testing the public markets in the past few months, Yelp isn't yet profitable. For the full year in 2011, Yelp had a net loss of $16.7 million on sales of $83.3 million. In 2010, Yelp lost $9.6 million on $47.7 million in revenue.
Yelp's main revenue stream is selling advertising to local and national businesses. It also runs daily deals, but in August Yelp cut half its sales staff in that unit.
Critics have questioned Yelp's high operating costs, as well as its ability to stay competitive in a field with a low barrier to entry.
In fact, Yelp's initial filing revealed that Google (GOOG, Fortune 500), which is developing its own Yelp-like offerings and recently acquired restaurant guide Zagat, is a key traffic source -- which puts Yelp in a precarious position.
Yelp itself indirectly addressed another potential problem for the company: the credibility and truthfulness of its reviews.
In its initial filing back in November, Yelp said it had 22 million reviews on its site. But in an amended filing in February, the figure dropped to 18 million. That's because Yelp said it was "filtering" about 5 million reviews and had removed about 1.8 million reviews.
Yelp filters or removes content when a review does not adhere to its terms of service. One example: a restaurant owner posting a 5-star review to boost her own company's rating.
But investors may not be spooked by any of the potential problems, if the recent performances of other social media IPOs are any indication. Last year, several Internet companies went public despite questions about their business models.
Another reviews site, the contractor-focused Angie's List (ANGI), shares jumped 33% when it started trading in August. It is still trading above its offering price.
Social gaming company Zynga (ZNGA) raised $1 billion in December from its IPO. And although the stock had a lukewarm debut, the stock has recently picked up steam after reporting solid results and as investors realized how tied it is to Facebook.
Business networking site LinkedIn (LNKD) has done well since going public last summer. The company has reported a profit in each quarter since its IPO. Shares have nearly doubled from their offering price.
And shares of daily-deals site Groupon (GRPN) popped 31% in its November debut, despite criticism of unorthodox accounting measures that led to several downward revisions of its financials.
But Groupon's stock has fallen this year after the company reported a fourth-quarter loss.