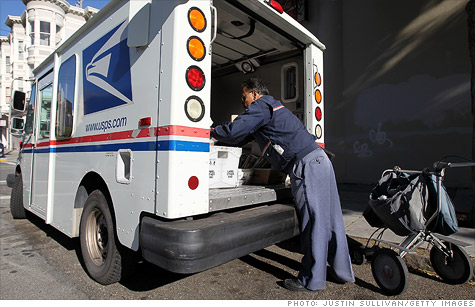 The U.S. Postal Service has a loan from Treasury, but Congress would pay that back.
WASHINGTON (CNNMoney) -- The Postal Service is facing such a cash crunch that it has a $12.1 billion loan outstanding from Treasury.
But taxpayers will be paid back, especially after Congress acts to help save the Postal Service, according to most experts.
While progress on a measure has been slow-going in Congress, both House and Senate legislation would dramatically reduce or eliminate debt by tapping overpayments made in retirement accounts.
The plans would also cut costs at the agency by closing plants and post offices, ending Saturday service, and delaying first-class mail, all of which would help put the agency back on the road to profitability.
"We're deeply concerned about the restoration of the Postal Service to solvency," said Ali Ahmad, spokesman for Rep. Darrell Issa, a California Republican who has sponsored a postal bill in the House.
The Postal Service had no debt in 2005. But a recession, declining first-class mail volume and a congressional mandate to prefund retirement health care benefits have put the service in a hold, according to Postal Service spokesman David Partenheimer. The service reported a $5.1 billion loss for the year ended Sept. 30.
If Congress signs off on the Postal Service's cost-cutting five-year plan, "we will be able to pay down our debt and we'll have a cash surplus of $7 billion by the end of fiscal year 2016," Partenheimer said.
The Senate's bill would tap most of estimated $10.9 billion overpayment in the Federal Employees Retirement System to pay down postal service debt -- although it would also use between $1 to $2 billion for incentives to get some long-time employees to retire.
The House bill would also give the Postal Service the ability to access its retirement overpayment. In addition, it would give access to another $10 billion loan backed up by Postal Service property, which would have to be sold a decade later to pay off that loan.
"With USPS property values estimated to be well into the tens of billions of dollars, there should be significant additional excess property that can be sold to pay off large portions of the base debt," Ahmad said.
The U.S. Postal Service is, by law, an "independent establishment" of the executive branch. The agency doesn't normally use tax dollars for operations, but it has a $12.1 billion loan from Treasury, as of Jan. 31.
Without help from Congress, the U.S. Postal Service will hit its $15 billion legal cap on the amount it can borrow from Treasury in coming months, postal service officials have warned.
But Postal Service officials don't want their cap raised without more meaningful reforms.
"The last thing we want is a short-term fix such as raising our debt limit," Partenheimer said.
To cut costs, the Postal Service is moving forward with the plan to close more than 200 postal plants that may cost 32,000 jobs. The Postal Service is also trying to cut Saturday service,delay delivery of some first-class mail, and close post offices. It is also considering a hike in the price of a first-class stamp by a nickel to 50 cents.
Congressional aides couldn't say Monday when Congress would officially take up and pass Postal Service legislation.
But they have a self-imposed deadline of May 15, when a moratorium on postal service facility closures expires. And individual Democrats and Republicans are united in their effort to prevent their own neighborhood post office or postal plant from closing.