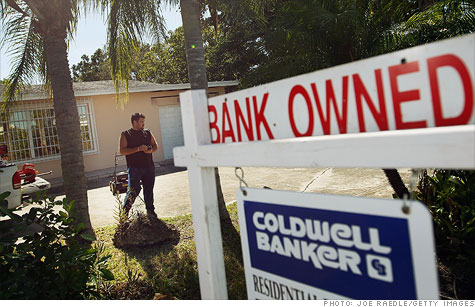 Thornburg Mortgage was the nation's second-largest independent mortgage company after Countrywide.
NEW YORK (CNNMoney) -- The Securities and Exchange Commission announced charges Tuesday against three senior executives from the now-defunct Thornburg Mortgage, accusing them of fraudulently overstating the company's income by over $400 million ahead of its bankruptcy.

Thornburg filed for bankruptcy in May of 2009, felled by heavy losses associated with the subprime mortgage crisis. At the time, it was the seventh-largest bankruptcy in U.S. history, with over $36 billion in assets, and had been the second-largest independent mortgage company in the U.S. after Countrywide.

As the company's financial situation deteriorated, the SEC alleges that former Thornburg CEO Larry Goldstone, chief financial officer Clarence Simmons, and chief accounting officer Jane Starrett conspired to falsely record a profit in the company's 2007 annual report.

In reality, the SEC says, the company had been hammered by over $300 million worth of margin calls from trading partners in the weeks leading up to the report, as the value of its mortgage-backed securities plummeted.
"We have purposefully not told [our auditor] about the margins calls," Starrett said in an email to Goldstone and Simmons, according to the complaint.
By March of 2008, Thornburg had defaulted on additional margin calls and was forced to file an amended report disclosing the extent of its problems.

"The truest test of corporate executives' commitment to full and accurate shareholder disclosure comes not during times of soaring profits and double-digit growth, but when companies are under financial stress and shareholders have the greatest need for accurate information," Robert Khuzami, director of the SEC's enforcement division, said in a statement.

"These Thornburg executives flunked that test by issuing a series of misleading statements and half-truths to conceal Thornburg's rapidly deteriorating situation."

The SEC is seeking fines, a return of ill-gotten gains, and a bar on the defendants from serving as officers or directors of public companies.
Goldstone and Simmons said in a statement that the SEC's allegations were "wholly without merit."

"In its zealousness to find people to blame for the financial crisis, the SEC has brought a case based on hindsight that is not supported by the facts, unwinnable in court, and profoundly unfair," the men said.

A lawyer for Starrett did not immediately return a request for comment.

In 2010, Countrywide co-founder Angelo Mozilo and two other former executives from the company reached settlements with the SEC after being accused of defrauding investors by hiding the growing risks of the company's mortgages. Mozilo was also accused of insider trading on Countrywide stock.