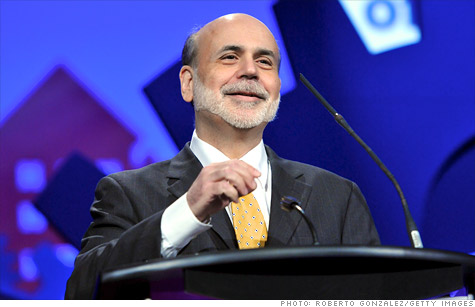 Federal Reserve Chairman Ben Bernanke said that job market gains are healthy but may not be sustaiinable given the overall sluggish economy.
WASHINGTON (CNNMoney) -- Stronger job growth has brought "good news" recently, but overall, it remains "out of sync" with the modest growth of the U.S. economy, Federal Reserve Chairman Ben Bernanke said Monday.
"The improvement in the labor market over the past year -- especially the decline in the unemployment rate -- has been faster than might have been expected, given that the economy during that time appears to have grown at a relatively modest pace," Bernanke told the National Association for Business Economics on Monday.
Government numbers show the U.S. economy has added more than 200,000 jobs each month since January, and the unemployment rate has fallen to 8.3% from 9% in just five months. Meanwhile, the U.S. economy has been growing relatively slowly, most recently at a mere 3% annual pace.
Bernanke called those figures a 'puzzle.' For the unemployment rate to fall that significantly, the economy should have been growing much more quickly.
Bernanke suggested that a possible explanation may be that employers reacted far too severely in laying off workers in the recession. Now, they're playing "catch-up." If that theory holds true, job growth is unlikely to continue at its current pace for long.
"We cannot yet be sure that the recent pace of improvement in the labor market will be sustained," Bernanke said.
The economy will have to rev up more substantially for the unemployment rate to keep falling. This gives the Fed more reason to keep its easy-money policies in place, Bernanke said.
"The Federal Reserve's accommodative monetary policies, by providing support for demand and for the recovery, should help, over time, to reduce long-term unemployment," he said.
Those comments gave investors reason to believe interest rates will remain low for the long-term. Stocks rose in early trading Monday.
The Fed Chairman also spoke of one of his biggest concerns-- that the long-term unemployed will see their skills atrophy and give up on the job market altogether. That could create a longer lasting problem for the economy.
"Unemployment -- especially long-term unemployment -- imposes important economic costs on everyone, not just the unemployed themselves," Bernanke said, pointing to lost tax revenue for the government, increasing costs of unemployment benefits and a less productive economy overall.
Of the 12.8 million people who remain unemployed, 42.6% have been out of work for six months or more, the latest jobs report showed.