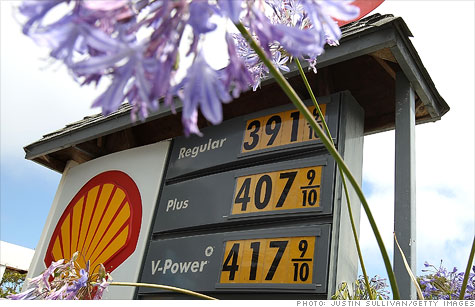 Average price of a gallon of gas pulls to within a dime of the $4 mark, according to AAA.
NEW YORK (CNNMoney) -- The price of an average gallon of regular gas surpassed the $3.90 mark Wednesday, moving to within a dime of the $4 threshold.
The average price rose 1.3 cents to $3.911 in the latest daily survey conducted for the motorist group AAA. The price has risen for 19 consecutive days.
The current price compares to just below $3.70 a month ago, and just below $3.59 a year ago.
Gasoline averages more than $4 a gallon in 10 states and the District of Columbia. At $4.55 a gallon, Hawaii has the nation's highest pump price.
Prices are less than a nickel away from $4 a gallon in Nevada and Wisconsin.
Wyoming has the nation's lowest gas prices, averaging nearly $3.51 a gallon.
Gas prices have been rising on the back of soaring oil prices, which shot up in early 2012 amid fears that tensions with Iran could lead to an all-out war that causes a disruption in oil supplies. But the latest Lundberg Survey said gas prices may be peaking, as the price of crude oil has remained relatively steady in March.
Signs of an improving economy have also boosted oil prices, as has the stock market. All three major indexes are up in 2012.
Two weeks ago, President Obama stopped in Cushing, Okla., to announce a fast-track approval process for a portion of the Keystone XL oil pipeline. He has still not given approval for a portion of the pipeline that runs from the Canadian oil sands fields to an existing viaduct in the Midwest.
Advocates say the pipelines could bring more oil into the United States, lowering prices. But experts say the pipeline won't gave much impact at the pump, and could even raise prices.
On Sunday, David Plouffe, a senior advisor to Obama, said that opening the nation's strategic petroleum reserve was still on the table, but that "a lot of factors" go into such a decision.