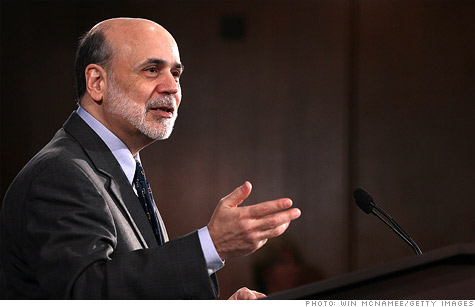 Fed Chairman Ben Bernanke wraps up his four-part lecture series with a rather sober view of the American economy.
WASHINGTON (CNNMoney) -- Ben Bernanke wrapped up his four-part lecture series at George Washington University on Thursday with a rather cautious view of the American economy.
The Federal Reserve chairman pointed to charts that showed the economy has grown around 3% a year over the last century.
"I think there is a reasonable chance, looking at the long run of history, that the U.S. economy will return to healthy growth, somewhere in the 3% range," he said.
Of course, that means there's also a chance it won't.
Bernanke defended the bond-buying spree that tripled the Fed's balance sheet to around $2.9 trillion. Those purchases, he explained, were meant to bring long-term interest rates lower, making it cheaper for both businesses and consumers to get loans.
"We anticipated that when we took these actions that we would be able to lower interest rates, and that was generally successful," Bernanke said "For example, as you probably know, 30-year mortgage rates have fallen below 4%, which is a historically low level."
In a prior lecture, Bernanke said the Fed's actions -- including assistance to banks and the bailouts of AIG and Bear Stearns in 2008 -- helped the United States avoid an all-out financial "meltdown." On Thursday, he emphasized that the American economy is not out of the woods.
The unemployment rate is still high, at 8.3%, and the housing sector has shown little improvement, despite the record-low interest rates on mortgages.
"Why has this recovery been more sluggish than normal? One reason certainly is the housing market," Bernanke said.
He pointed to another chart, this time showing how banks have tightened their lending standards and made it difficult for anyone without a perfect credit score to qualify for a mortgage.
"People with lower credit scores -- and 700 is not a terrible credit score -- are unable to get mortgages," he said.
Meanwhile, small businesses -- a powerful job-creation engine -- have also found it difficult to get loans. That's yet another reason that job creation and economic growth have been slow, Bernanke said.
"The Fed can provide stimulus, it can provide low interest rates. But monetary policy by itself can't solve important structural, fiscal and other problems that affect the economy," he said. "This is all a bit discouraging."